Could The CRTs Perform Well At Sachsenring?
Chaparral Motorsports
|
July 6, 2012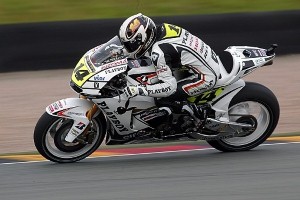 One of the more interesting storylines in MotoGP this seasons has been how the new CRTs (Claiming Rule Teams) are performing. New for the 2012 season, the CRTs use bikes not owned by a major factory that are significantly less powerful than the factory prototypes. Yet the upcoming German GP at Sachsenring could be a chance for them to shine, reports Crash.net.

The CRTs are already coming off of their best performance yet. At Assen, Randy de Puniet of Power Electronics Aspar posted the best CRT finish of the season coming in 8th overall. It was the first time a CRT bike has finished in the top 10 thus far. In fact, three bikes managed the feat, with San Carlo CRT rider Michele Pirro in 9th and Speed Master's Mattia Pasini in 10th.

Now, the series heads to Sachsenring, where CRT bikes may be on more level ground. The major problem for the CRTs thus far has been speed. At times, the bikes have been clocked traveling 20 km/hr slower than the very best models. Yet motorsports competitors know that top speed isn't the sole measure of a bike - it's also about handling.

At Sachsenring, the track is set up in such a way that riders will simply never hit their top speed - there are too many twists and turns to worry about. With the top bikes unable to pull away on pure speed, it will come down to handling, chassis and rider skill in determining the best bike. While it's doubtful a CRT will finish at the top, it could be a chance to get a top five finish.