Motorcycle Maniac: The 2006 Suzuki Katana 600 - A Fantastic Sport Tourer
Chaparral Motorsports
|
June 25, 2012
|
Last Updated: June 18, 2020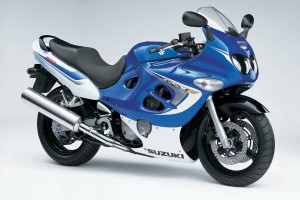 Those who have been riding bikes as long as I have may remember the Suzuki "Katana" name was used on a few sport bikes in the early 80s, which would ultimately be the predecessor of today's Gixxers. Suzuki later revived the name to refer to its GSX-F models, which were sport touring bikes. The Suzuki Katana 600 was made through 2006, and I consider the final year of the bike to be one of the best used sport tourers money can buy.
It's important that sport bike fans don't simply think of the Katana 600 as a cheap version of the Gixxer. This bike isn't really made for the track in the way the GSX-R600 or GSX-R1000 models are. No, this is the bike for the motorcycle rider who might have ridden a Gixxer back in the day but has slowed down somewhat since then. The Katana 600 isn't about maximizing power and ensuring all the other track riders eat your dust. It's about providing a comfortable ride while still offering a decent-sized engine for those who like to open it up now and again.
And that's exactly what this bike delivers. A good phrase to keep in mind with the Katana 600 is "plenty of power." It's not the bike for the guy who times his laps as he flies around the track, but it's got enough power to get your heart racing on the highway. For a guy like me who has settled into a more relaxed lifestyle but still appreciates a good adrenaline rush now and again, the Katana 600 is the perfect fit.
Those who rode sport bikes when they were young and dumb will find plenty to like about the Katana. The four-stroke, four cylinder engine offers plenty of power, and if you've ever been on a Gixxer you'll likely get flashbacks. The key difference is that the suspension is ultimately tuned for real life, not racing around a track. You won't be hurting after a full day of riding. The Katana 600 is a fun toy for long distance riders who want something more agile and powerful than big bulky cruisers.
Although Katanas aren't made anymore, you'll still be able to find plenty of aftermarket sport bike parts and accessories available for this model. Whether you want to add some saddlebags for additional storage space or want a new performance exhaust pipe to really push the power limit, the Katana 600 is an easy bike to play around with and set up exactly how you want.