Jason DiSalvo Announces "Ladies Only" School
Chaparral Motorsports
|
June 22, 2012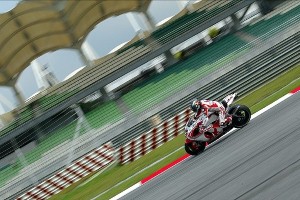 Ladies who want to learn to ride sport bikes - or improve their current technique - are welcome at the upcoming "Ladies Only" session of the Jason DiSalvo Speed Academy at Barber Motorsports Park in Alabama.

DiSalvo, who competes in AMA Daytona Sportbike, runs educational sessions at his riding school throughout the year. On October 1, the school will offer its first-ever "Ladies Only" session, with women getting some special attention over the course of the program.

Participants in the school will get on-track time with DiSalvo and other trainers, as well as videos of all their runs. Trainers will review the videos in a classroom setting in order to give attendees tips on body position and improving their technique. There will also be classroom sessions on more technical aspects of riding. All participants get an SD card loaded with their training videos, a diploma, and a T-shirt.

"Sportbike Track Time has proven the popularity of this concept with its "Ladies Only" trackday events," said DiSalvo. "We're excited to bring the Speed Academy curriculum to women who seek to improve their riding skills in the company of their peers and to do so at one of America's premier racetracks."

DiSalvo will race at Barber this weekend, hoping to overtake points leader Martin Cardenas in the Sportbike standings.