AFX FX-39 DS Product Review
Chaparral Motorsports
|
June 22, 2012
[caption id="attachment_13641" align="alignright" width="300"]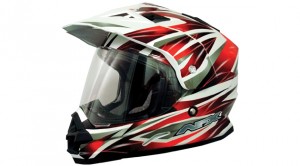 AFX FX-39 Dual Sport Multi Full Face Helmet[/caption]

When it comes to purchasing motorcycle helmets, riders have a broad range of options to choose from. Some top-of-the-line helmets come with high price tags, while others offer a bare-bones set of features at a much more affordable rate. The AFX series of helmet seeks to strike a balance between the two, offering riders a good mix of comfort and features without the big price tags of the high end models.

The [mageProductLink sku="373-0110-2448" title="AFX FX-39 Dual Sport Full Face Helmet"]AFX FX-39 DS[/mageProductLink] is a prime example of this strategy. The new helmet offers excellent safety for the price, meeting DOT standards as well as the European ECE 22.05 standards, which are a bit more stringent. While nearly all helmets on the market are approved by the DOT, it's slightly rarer to find one that takes the ECE 22.05 standards into account. Several of AFX's new models also conform to new standards adopted by Australia and New Zealand, as countries work to make motorcycle helmets safer for all.

One area that companies like to save money in is the graphics and overall paint quality. When riders buy a top-tier helmet, they're not just buying it for features, but the look as well. The FX-39 is offered in a broad range of solid colors, but goes one step further by offering some [mageProductLink sku="373-0110-2478" title=""]interesting patterns[/mageProductLink] as well. Keeping in tune with its "DS" Dual Sport designation, the patterns are mainly different types of [mageProductLink sku="373-0110-2508" title=""]camouflage[/mageProductLink], making this a good choice for off-roading. AFX also offers the iconic [mageProductLink sku="373-0110-2695" title=""]MARPAT design[/mageProductLink], which is based off of the camouflage used by U.S. Marines.

[caption id="attachment_13642" align="alignleft" width="300"]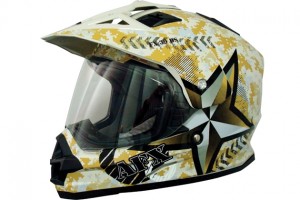 AFX also offers the iconic MARPAT design, which is based off of the camouflage used by U.S. Marines.[/caption]

One thing to keep in mind is that this helmet runs slightly large, and riders may have to go down a size in order to get a helmet that fits them well. Of course, this depends on head size and personal preference - those who want to wear sunglasses or attach an earpiece inside the helmet may appreciate the extra room. The lining used in the FX-39 helmets is comfortable and won't irritate the rider's skin as they travel. Overall, the FX-39 is an non-intrusive helmet that most riders will have no issues with from a comfort standpoint.

Ventilation is another important aspect of having a comfortable ride, and the FX-39 fortunately excels in this regard in ways that many top-of-the-line helmets do not. A massive vent on the chin provides cool bursts of air to the lower half of the helmet. The FX-39 also incorporates the rear ventilation system well, ensuring that air is constantly circulating through the helmet. While the top vent is not as effective as the one on the bottom, it still gets the job done and keeps the upper half of the helmet cool on hot summer rides.

Any helmet with good ventilation is going to have some noise, but the FX-39 does a great job of keeping this to a minimum. The face shield is well sealed and doesn't allow noise or air to get through, while the bottom of the helmet is constructed in such a way that noise doesn't enter up through the neck area.

AFX also offers some good value when it comes to taking care of the helmet. The FX-39 comes with a lifetime warranty, and AFX also has a "no questions asked" full replacement policy for helmets that have been in an accident.

Overall, the FX-39 is a fantastic helmet for the price and the perfect compromise for those riders who want a comfortable fit with great ventilation while not breaking the bank.