Valentino Rossi Makes Forbes' List
Chaparral Motorsports
|
June 20, 2012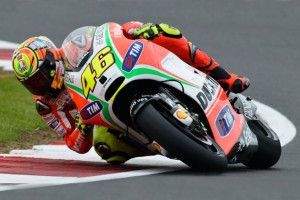 Valentino Rossi
may not have had the most success on the track these past few years when compared to his MotoGP competitors, but the popular Italian rider is likely crying all the way to the bank. Despite routinely missing the podium as a member of Ducati, Rossi is still the highest-paid MotoGP racer and one of the richer athletes in the world, according to Forbes.

Rossi won seven championships with Honda and Yamaha between 2001 and 2010, setting him up for a monster contract once his deal expired. Ducati made Rossi the highest-paid motorcycle rider in the history of the sport, paying the Italian $17 million annually.

Yet that's just a part of his income. Rossi is also the most popular MotoGP competitor, meaning he has plenty of sponsorship and endorsement opportunities. Forbes estimates these bring Rossi about $13 million per year, bringing his annual income to about $30 million. That's good enough for twentieth overall on Forbes' list of rich athletes, sandwiched between F1 competitors Fernando Alonso and Michael Schumacher.

The news outlet estimates the best-paid athlete is boxer Floyd "Money" Mayweather, who will bring in an estimated $85 million for 2012.