Chaparral Motorsports Reaches Out To International Customers With Global Checkout Options
Chaparral Motorsports
|
June 12, 2012
Motorcycle Parts Retailer is allowing customers to ship products to more than 220 countries

Chaparral Motorsports, a one stop motorcycle and ATV superstore, has partnered with Bongo International in order to sell its selection of motorcycle parts, accessories, and gear on a global scale.

[caption id="attachment_13298" align="alignleft" width="300"]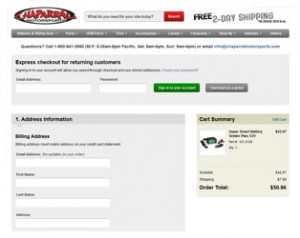 International Checkout Available at Chaparral Motorsports[/caption]

Chaparral Motorsports is pleased to provide its international shoppers with the customer experience they have been waiting for, through its new partnership. The online retailer now supports guaranteed order totals and international shipments for its international customers.

[caption id="attachment_13297" align="alignright" width="300"]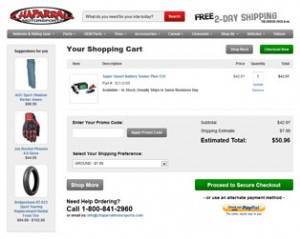 Chaparral Motorsports Shopping Cart Accepts International Payments[/caption]

"We have experienced a large amount of website traffic from international locations over the last year, and want to offer a straightforward experience for international shoppers looking to order motorcycle parts and accessories online" states Crystal Ashby, VP Marketing for Chaparral Motorsports. "Through our partnership with Bongo, we can offer safe, reliable, fast shipping. Most orders arrive in the destination country within 3-7 business days." All shipments include insurance and can be tracked through a Unified Tracking Number providing the security and peace of mind to international customers about their motorcycle parts and accessories.

Presently, 15% of the website traffic is from international countries. The top three countries Chaparral Motorsports is receiving traffic from are Australia, Canada, and Japan. The partnership with Bongo will provide superior shipping services to international customers in over 200 additional countries, including United Kingdom, Brazil, Australia, Canada, Mexico and Japan.
Checkout

The order process is seamless from a shopper's experience. When international shoppers check out at ChaparralMotorsports.com, the shopper just adds items to the basket, Proceeds to Checkout, and Enters a Billing Address, the shopper will be seamlessly directed to our partner site, Bongo International. Bongo International will calculate and display a guaranteed and lowest possible order total in your preferred currency, including all shipping costs from the U.S. to your selected international destination, as well as any applicable duties and taxes as determined by the destination customs and revenue authorities.

Chaparral Motorsports also offers its United States customers the opportunity to ship gifts for their friends and families living aboard thru this new international shipping option, for a quick and low cost price.