Josh Hayes Continues Excellent Form At Road America
Chaparral Motorsports
|
June 7, 2012
[caption id="attachment_13224" align="alignright" width="300" caption="Josh Hayes on the 2012 AMA Pro National Guard SuperBike Road America Winner's Podium."]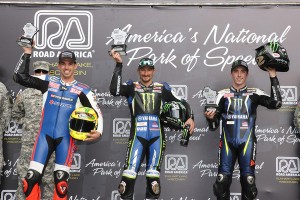 [/caption]

Monster Energy Yamaha's Josh Hayes continued his winning streak by doubling at Road America.

Hayes has been tearing it up in AMA Road Racing so far this year and last Sunday's race was no different. Hayes placed first in both motos to get the double and extend his points lead on the challengers in the series.

In the first race, Hayes flew around the track and set the course record for a lap time. His second race was even more dominant, eventually amassing a win by more than 13 seconds.

"I don't really know too much of what to say except the same things you always hear: big thank you to an amazing crew," said Hayes. "I have an amazing crew, I have a great motorcycle, and it allows me to just come here and focus on one thing and that's riding my best."

Hayes' chief rival for the AMA Road Racing crown, Blake Young, has barely glimpsed Hayes' tailpipe thus far. Instead, Young has found himself dueling with Hayes' young teammate, Josh Herrin, for second place. This time around, it was Young who came out on top, but by less than a tenth of a second.