Jorge Lorenzo Triumphs In Hometown Race
Chaparral Motorsports
|
June 5, 2012
[caption id="attachment_13099" align="alignright" width="300" caption="Yamaha's Jorge Lorenzo was especially motivated going into this week's Catalan Grand Prix in Spain."]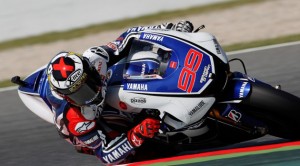 [/caption]

All MotoGP riders are motivated to do their best in every competition, but Yamaha's Jorge Lorenzo was especially motivated going into this week's Catalan Grand Prix in Spain. With a chance to win in front of his friends and family in his home country, Lorenzo said earlier in the week he wanted to end on top of the podium - and that's exactly what he did.

Lorenzo had plenty of professional motivation as well. Despite the Spanish rider's familiarity with the track, Australian Casey Stoner won the event last year in dominant fashion. With Lorenzo and Stoner very close in the point standings, the Catalan GP was sure to be a great race.

Yet it wasn't Stoner who proved much of a challenge for Lorenzo, according to Cycle News. The defending champion fell behind early and was never able to get caught up. Instead, Lorenzo did battle with fellow countryman Dani Pedrosa, much to the thrill of those in attendance. Lorenzo and Pedrosa went back and forth before the Yamaha rider made a pass on the twentieth lap that Pedrosa simply had no answer for.

Lorenzo's teammate, Andrea Dovizioso, rounded out the podium with a third-place finish.