Marines To Provide Report On Expansion's Impact To California Off-Roading Area
Chaparral Motorsports
|
June 1, 2012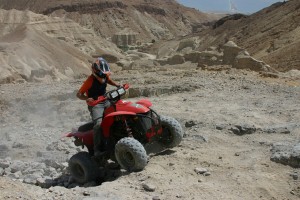 A proposed expansion to a Marine Corps base near San Bernardino, California, has been met with resistance from local ATV and off-road motorcycle riders due to the loss of several trails in the area the military plans to use. According to the American Motorcycle Association, the federal government recently gave the riders a small win by asking the Marines to complete a report detailing the expansion's impact on off-highway riding and exploring possible alternatives.

The U.S. House of Representatives has asked the military to provide a detailed report on the planned expansion of their base in Johnson Valley. The new expansion will encroach on the Johnson Valley Off-Highway Vehicle Riding, a popular spot for riders that features trails on public land.

"While we certainly believe that the U.S. Marines, like all of America's military branches, should be the best trained in the world, we don't believe that it is necessary to ban off-highway riders from the area to accomplish that mission," said Sheila Andrews, AMA legislative assistant. "We, and other concerned off-highway recreation groups, hope to work with the military and Congress to ensure the needs of both the military and off-highway riders are met."