Tyler O'Hara Dominates Boring XR1200 Race
Chaparral Motorsports
|
May 30, 2012
[caption id="attachment_12974" align="alignright" width="300" caption="Tyler O'Hara was out ahead of the other racers by a full second after just the second lap - Photo: Brian J. Nelson"]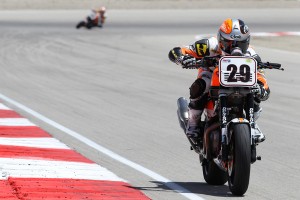 [/caption]

In the world of motorsports, occasionally a race will simply put just about everyone watching it to sleep. Most fans agreed that was the case with the recent Vance and Hines XR1200 round at Miller Motorsports Park, according to Cycle News.

The boring race wasn't really the fault of the riders, who were simply trying to go out and do their best like any other day. Unfortunately, that meant rider Tyler O'Hara was out ahead of the other racers by a full second after just the second lap - almost an eternity in sport bike racing. O'Hara would eventually grow his lead and ultimately finish four seconds ahead of second-place Kyle Wyman.

Having one rider dominate a race isn't entirely uncommon, but typically there's at least a good battle to watch for second or even third place. That wasn't the case this time around, however. Wyman pulled out to an eight-second lead on third-place rider Michael Barnes, who was in turn comfortably ahead of the rest of the pack. The result was just about every rider racing by themselves, with no chance of catching anyone in front of them.

"The race was pretty lonely," Wyman told the news source "It was about the most boring XR race you're ever going to see. I felt sorry for the fans."