Jeremy McGrath Seeks Bone Marrow Donor For Wife
Chaparral Motorsports
|
May 22, 2012
[caption id="attachment_12739" align="alignright" width="224"]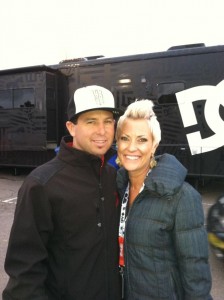 Jeremy McGrath and his wife Kim.[/caption]

Motorsports legend Jeremy McGrath has turned to the motorcycle racing community for help after his 36-year-old wife Kim was diagnosed with Leukemia.

Kim McGrath recently survived breast cancer, but the McGrath family received more bad news when she was diagnosed with Leukemia shortly after her cancer went into remission. Jeremy McGrath then took to Twitter to ask motorsports fans to log on to bethematch.org and see if they could help Kim and other people in need of a bone marrow transplant.

In the ensuing days, McGrath and motorcycle fans have helped the entire community of those waiting for bone marrow. The tweet spurred many people to action, with 26 bone marrow drives registered due to McGrath's request. Each of those drives have brought in many potential matches - a recent bone marrow drive at Monster Energy Headquarters in California had more than 600 people show up.

"It is my personal goal to find a bone marrow match for my wife Kim and with all of this incredible support we hope to test thousands of people over the next few weeks," said McGrath. "In less than a week we have already tested more than 1,000, brought in funds to help bethematch.org keep doing what they do and hopefully raised some awareness of how important it is for people to get tested and become bone marrow donors."