John Hopkins Returns At Miller Park WSB
Chaparral Motorsports
|
May 16, 2012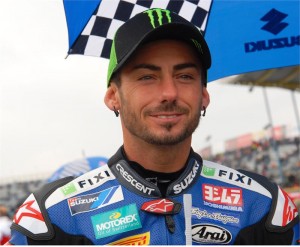 FIXI Crescent Suzuki's John Hopkins will return to the team for the next round of the World Superbike Championship at Miller Motorsports Park in America on May 28th after being forced to miss last weekend's races through injury.

Hopkins suffered a broken bone in his right foot and damage to his left hip following a high-side at Monza in Italy earlier this month. It was initially hoped that he would be fit for the Donington Park round last weekend, but the hip injury restricted his movement too much and tests proved inconclusive.

On his return to California, Hopkins visited specialists to have further scans and to diagnose the severity of the injury. After an entire day of tests it was revealed that no significant long-term damage had occurred in the hip joint and he will be able to return to race action at Miller.

Hopkins will still need to undergo a series of painkilling injections to combat the discomfort in both his hip and his foot, but he is fully committed to racing and determined to get back on the FIXI Crescent Suzuki GSX-R and do everything in his power to get a good result on home soil.

John Hopkins:

"I was so disappointed to miss Donington Park, where I'm sure I could have been in that crazy fight for the win! It's been a really rough ride physically over recent times, and there were some real worries over the hip condition, but I know I have a lot more to give and that my luck has to change for the better. The team, my family and close friends have been really supportive and I just want to get back into what I know I can do best.
"I am fully committed to racing at Miller and I will be doing everything possible from now and up to the race weekend to ensure that I do whatever I can to get the best result possible for FIXI Crescent Suzuki, me and everyone involved. It won't be easy, so I plan to take it step-by-step, enjoy the riding; and build back into it."
Jack Valentine - Team Manager:
"This is great news and certainly a big boost for the team! We are all delighted to have John back for Miller and after such a positive weekend at Donington - where the GSX-R showed it was able to run at podium pace - it is equally important to get him back out there with Leon so we can continue to take steps forward. I know it will be difficult for him as he will have to overcome the pain, but there will be no pressure from us and John's a tough cookie as recent history has shown!"
Source: Team Suzuki