Peter Hickman To Replace John Hopkins At Donington Park
Chaparral Motorsports
|
May 11, 2012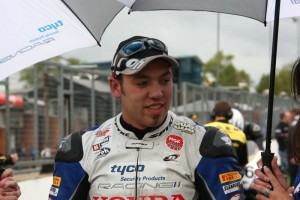 With John Hopkins out of the upcoming World Superbike race at Donington Park due to a broken foot, the rider's Crescent Suzuki team is turning to another rider to fill the void left by the former champion.

The team has tapped 24-year-old British rider Peter Hickman to replace Hopkins for the race. Hickman is a local choice who has raced at Donington Park plenty of times in British Superbike, where he currently competes for the Kawasaki team.

"I'm so happy that I've got a chance to ride with the FIXI Crescent Suzuki team this weekend," said Hickman. "It's going to be a steep learning curve, but I've got nothing to lose, so I'm really looking forward to it. I know the track, but I don't know the bike, so I'll be spending the first practice getting used to the GSX-R and how it behaves around Donington. I'd like to thank everybody in the team for giving me this chance and I really hope that I will not disappoint them."

Hopkins hopes to be back on his GSX-R by May 26, when the World Superbike heads to Hopkins' home country of America for a race at Miller Motorsports Park.