2012 AMA Supercross Las Vegas Finale Results
Chaparral Motorsports
|
May 7, 2012
Ryan Dungey Wins The Las Vegas Supercross
[caption id="attachment_12314" align="alignright" width="300"]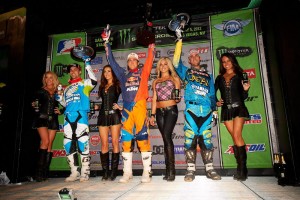 2012 AMA Supercross Las Vegas Finale Podium - Photo: Hoppenworld.com[/caption]

Red Bull/KTM Factory rider Ryan Dungey earned his fourth victory of the season when he took another win at the Las Vegas Supercross Finale at Sam Boyd Stadium.

Dungey's win in Las Vegas solidified that he has made a full recovery and is 100% ready for the outdoors. He had a rough start to his heat but quickly made up time and was able to move into 2nd place by the end of the heat race.

In the main event, Dungey got off to a 2nd place start behind Mike Alessi. He was able to make a nice inside pass on Alessi in the third corner to take over the lead. Once Dungey put his KTM up front he never looked back. He had pulled out to over a 10 second lead by the halfway point and at one point had a 15 second lead on the field. Dungey enjoyed the final lap of the race celebrating with some whips and eventually crossed the finish line to take his fourth win of the season.

"It feels great to end the season with two wins," remarked Dungey. "This was a tough season for me. I am glad to end it on a positive note. I am so happy to be a part of the Red Bull/KTM Team and am grateful for all their support. We are turning our focus to outdoors now with a goal of winning the championship."

[caption id="attachment_12315" align="alignleft" width="300"]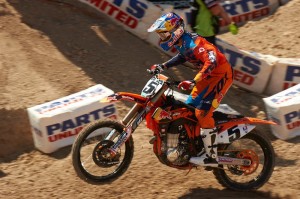 Ryan Dungey earned his fourth victory of the season - Photo: Hoppenworld.com[/caption]

Dungey will now return to California where he will train for outdoors over the next two weeks before heading to Sacramento, CA for the opening round of the AMA Motocross Series on May 19, 2012.

Source: KTM North America

Davi Millsaps Confirms Championship Runner-Up Slot
[caption id="attachment_12320" align="alignright" width="300"]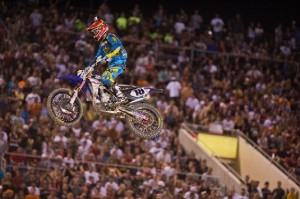 Davi Millsaps has taken his YZ450F to second place in the 2012 AMA Supercross series[/caption]

JGRMX Yamaha's Davi Millsaps has taken his YZ450F to second place in the 2012 AMA Supercross series - also an FIM World Championship - after finishing as runner-up at the Sam Boyd Stadium in Las Vegas for the final round of seventeen last Saturday.

The 24 year old rode to his fifth podium finish of the season ahead of Justin Brayton who was his nearest threat to the number two plate. The gap between the two racers stood at nine points upon the close of the seventeenth main event in Nevada in front of nearly 40,000 spectators.

After winning his Heat race Millsaps made a reasonable start in the Main and slotted into third position relatively early in the 20 lap chase. He focused his sights on Jake Weimer and was able to move up to second place at mid-race distance, enjoyed a tussle for track space and then held on until the chequered flag. Millsaps has been one of the outstanding performers in the SX field in a season that has been mired with injuries and setbacks. The Floridian's improving speed and confidence has been key in the team's steady flow of decent results (top five positions in eight from the last ten rounds) and in the absence of James Stewart - winner of two races in 2012 - who ends the campaign with 7th in the standings.

"It was a great battle there between I-don't-know how many of us...I had it pretty good through the whoops but it was a long fight for sure," Millsaps said. "I was able to stay ahead and keep pushing. To get second in the points is a big step for me and the team. I'm pumped; this is the best season I've had since I've got on the 450. The Yamaha has been running great and I want to thank my whole team. It has been an up-and-down year for everyone on it but we did the best we could."

"It was a great battle there... I had it pretty good through the whoops but it was a long fight for sure."

- Davi Millsaps
The West and East Coast divisions of the Lites class also came to an end in Vegas and Yamaha were able to see Ryan Sipes finish 8th in the West race and claim 7th in the final points table. The Kentuckian took his motorcycle to victory in Seattle. On the East side Kyle Cunningham was the highest YZ250F runner with 6th in the main event and 8th in the championship.

The next big Supercross appointment will be the Monster Energy Cup - again at the Sam Boyd - on October 20th before the 2013 season (again pegged for seventeen races) begins in January.

Source: www.yamaha-racing.com

Martin Davalos Podiums At Las Vegas SX Finale
[caption id="attachment_12354" align="alignright" width="300"]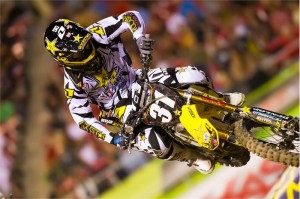 Martin Davalos picked-up his second podium of the season.[/caption]

Rockstar Energy Racing Suzuki's Martin Davalos picked-up his second podium of the season at Saturday night's 17th and final round of the AMA Supercross East-West Lites Shootout at Sam Boyd Stadium in Las Vegas.

The event comprised one 15-lap East Main Event and one 15-lap West Main Event, followed by a 10-lap sprint that was the SX Lites East-West Shootout.

Davalos blazed onto the scene in the 15-lap SX Lites West main, getting off the gate in second, continued to run in a podium position for more than half the race before finishing fourth. In the Shootout, the RM-Z250 rider again got off the gate in second and led for several laps before finishing third. This result marks the second podium finish of the season for Davalos, who wrapped up the year in eighth overall.

Said Davalos: "Vegas was good. We carried the momentum from Salt Lake City into our Main Event. We got fourth in the heat and that was really positive. From the beginning of the season we've struggled and to come out and get on the podium in the Shootout was so important. We got a good a good start and fought hard and we were able to get third. I'm pretty pumped, the Rockstar Energy Racing team has done such a great job and they believe in me and that means a lot. I'm just looking forward to carrying this momentum into the Outdoors."

[caption id="attachment_12355" align="alignleft" width="300"]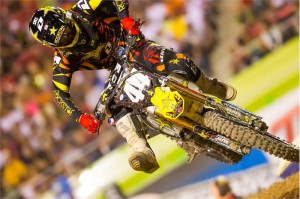 Jason Anderson had a good season overall, 5th in points[/caption]

Rockstar Energy Racing SX Lites West team-mate Jason Anderson came into the final weekend feeling ill. Despite this, he got a great jump off the gate and ran up front for the entire West Main before finishing fifth. In the Shootout, Anderson suffered some fatigue, had a few problems; and wound up 19th. Overall, however, he enjoyed a good season, picking up a podium finish and coming in fifth overall in points.

"Las Vegas was all right," said Anderson. "I got fifth in my Main, even though I was sick all day. Now, I'm just pumped to get out of here healthy and in the top five in points and with a good end to the Supercross season. Now, it's time to get ready for Motocross in a few weeks."

Blake Wharton and Hunter Hewitt represented Rockstar Energy Racing's SX Lites East contingent. In their Main Event, Wharton finished fifth and was followed home by Hewitt in seventh. In the Shootout, Wharton picked up a ninth-place result while Hewitt suffered some bad luck and finished 18th. Overall, Wharton celebrated a rock-solid season, finishing third in points with a win and two additional podiums.

In the Supercross class, Rockstar's Brett Metcalfe came into Las Vegas still on the mend from a crash last weekend. And, adding insult to injury, he suffered a practice crash that resulted in medical evaluation. Although he was released to race, the Australian wasn't 100 percent fit, but he carded a solid fourth-place finish in his heat race. In the Main Event, Metcalfe continued to push hard and ran in a podium position for several laps before some problems resulted in an 18th-place finish. Overall, Metcalfe was eighth in points for the season and had four top-five finishes.

[caption id="attachment_12357" align="alignright" width="300"]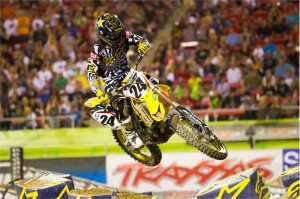 Overall, Brett Metcalfe was eighth in points for the season.[/caption]

"The last few rounds have been a challenge," said Metcalfe. "We've had some old-fashioned bad luck, but that happens to everyone. I'm just glad to finish the season relatively healthy and in the top 10 in points. Now I'm already focusing on getting ready for the Outdoors in a few weeks and I'm looking forward to that."

The next event for the Rockstar Energy Racing teams is the season-opening round of the 2012 AMA Pro Motocross Championship on Saturday, May 19th, at the Hangtown National in Sacramento, California.

Source: Team Suzuki

Red Bull/KTM Race Report - East vs. West Las Vegas Shootout
[caption id="attachment_12317" align="alignright" width="300"]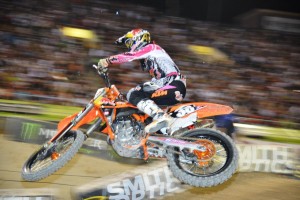 Marvin Musquin put together impressive rides - Photo: Hoppenworld.com[/caption]

The Red Bull/KTM Team of Ken Roczen and Marvin Musquin put together two impressive rides to finish 4th and 5th respectively in the Dave Coombs Sr. East vs. West Supercross Lites Shootout held at Sam Boyd Stadium.

The first half of the night show consisted of the final round of the East and West Supercross Lites Series with each group of riders competing in a 15 lap main. Roczen was up first in the East Lites Supercross class. He got off to a 4th place start and quickly moved into 2nd by the end of the first lap. He remained in 2nd place for the remainder of the race to finish on the podium in the final race. His finish also secured him 2nd place in the overall point standings.

Musquin was up next in the West Lites Supercross main. Musquin started 4th and held the position for the first three laps. Unfortunately, he is still dealing with a hand injury from the weekend before that started to plague him in the middle of the race. He dropped to 6th and held the position through the end of the race.

Both riders had a small amount of time to recover and then they were back out on the track to tackle the East vs. West Shootout. Musquin got a decent jump off the start and was 5th around the first corner while Roczen was back in 9th. Roczen showed his speed in the first few laps and moved his KTM up to 4th place. He and the top three then began a great battle for the lead position that kept the crowd on their toes.

[caption id="attachment_12316" align="alignleft" width="300"]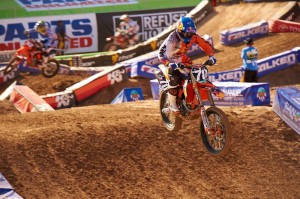 Ken Roczen showed his speed taking 4th place - Photo: Hoppenworld.com[/caption]

Roczen was able to hold the 4th place position throughout the remaining laps despite heavy pressure from his teammate at the end of the race. When the checkered flag flew Roczen came across in 4th place while Musquin held on to finish 5th.

Both riders will now spend the next two weeks testing for outdoors before the series opener of the AMA Motocross Series kicks off on May 19, 2012 in Sacramento, CA.

Source: KTM North America

JDR/J-Star/KTM Race Report - Las Vegas Supercross
[caption id="attachment_12319" align="alignright" width="300"]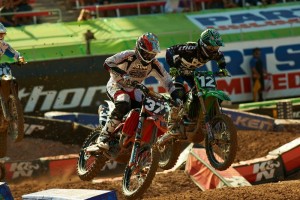 Malcolm Stewart charged to an 8th place finish - Photo: Hoppenworld.com[/caption]

The JDR/J-Star/KTM Team of Malcolm Stewart and Matt Moss finished the season off strong with both riders securing a top ten result at the Las Vegas East vs. West Supercross Lites Shootout at Sam Boyd Stadium.

The Las Vegas Supercross was structured differently than in the past giving both the East and West Supercross Lites classes a main event race at the opening half of the night show before putting the top ten from each series against each other for a ten lap East vs. West coast shootout.

Stewart was up first in the East Supercross Lites main event. He got off to a top five start and quickly put is KTM in 4th position. He rode a solid pace to maintain his position and earn a top five result at the conclusion of the race.

His teammate, Moss, started the West Supercross Lites main event in 9th place. He put together a few solid laps in the first quarter of the race to move up to 7th place. He held his position to the checkered flag to earn 7th overall.

[caption id="attachment_12318" align="alignleft" width="300"]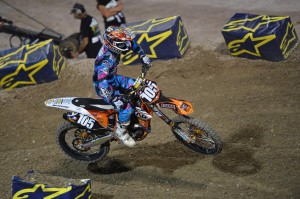 Matt Moss' 10th place finish earned his team two top ten positions - Photo: Hoppenworld.com[/caption]

Both riders were then sent back down to the starting gate for the Shootout. The two teammates started right next to each other with Stewart in 11th place and Moss in 12th. They followed each other through the pack and continued to stay within sight of each other for the first half of the race. Stewart eventually charged up to 8th place while Moss moved up to 10th. At the end of the ten lap shootout, Stewart held on to finish 8th while Moss kept 10th earning two top ten positions for the JDR/J-Star/KTM Team.

Source: KTM North America

Las Vegas Overview And Point Standings
2012 AMA Supercross Las Vegas Image Gallery (Click for full size images)


General Overview



Crowd: 39,509

Weather: Dry

Lap Record: 0:52.030 (Kevin Windham, 01/01/2004)

Last Years Winner: Chad Reed

Manufacturer Standings - 05/07/2012


Kawasaki - 381

Honda - 342

Yamaha - 320

KTM - 311

Suzuki - 245

Overall Results - Supercross Class: 20 Laps


Ryan Dungey: 21:15.548

David Millsaps: +8.538

Justin Brayton: +11.257

Jake Weimer: +13.220

Joshua Grant: +21.711

Nico Izzi: +29.395

Mike Alessi: +33.790

Weston Peick: +38.328

Andrew Short: +39.518

Nicholas Wey: +40.897

Broc Tickle: +57.122

Justin Sipes: -1 Lap

Chris Blose: -1 Lap

Gavin Faith: -1 Lap

Tyler Bowers: -1 Lap

Jason Thomas: -1 Lap

Ryan Clark: -1 Lap

Brett Metcalfe: -8 Laps

Matthew Goerke: -9 Laps

Kyle Regal: -12 Laps

Final Point Standings - Supercross Class ( Race 17 of 17 )


Ryan Villopoto - 323 / 2012 Champion

David Millsaps - 266

Ryan Dungey - 257

Justin Brayton - 257

Jake Weimer - 229

Mike Alessi - 206

James Stewart - 178

Brett Metcalfe - 177

Broc Tickle - 171

Kevin Windham - 166

Kyle Chisholm - 143

Chad Reed - 128

Andrew Short - 126

Nicholas Wey - 116

Weston Peick - 99

Robert Kiniry - 91

Joshua Grant - 90

Joshua Hansen - 89

Matthew Goerke - 76

Justin Sipes - 61

Overall Results - Supercross Lites East Class: 15 Laps


Justin Barcia: 15:40.400

Ken Roczen: +4.532

Blake Baggett: +16.934

Malcolm Stewart: +34.368

Blake Wharton: +38.927

Kyle Cunningham: +42.230

Hunter Hewitt: +44.796

Jake Canada: +47.153

Matthew Lemoine: +51.480

Kyle Peters: +53.931

Justin Bogle: +56.838

AJ Catanzaro: -1 Lap

Les Smith: -1 Lap

Austin Politelli: -1 Lap

Zackery Freeberg: -1 Lap

Michael Akaydin: -1 Lap

Shane Sewell: -2 Laps

John Pauk: -2 Laps

Dakota Tedder: -6 Laps

Shawn Rife: -14 Laps

Final Point Standings - Supercross Lites East Class ( Race 9 of 9 )


Justin Barcia - 210 / 2012 Champion

Ken Roczen - 165

Blake Wharton - 158

Blake Baggett - 148

Darryn Durham - 143

Jake Canada - 131

Justin Bogle - 117

Kyle Cunningham - 85

Matthew Lemoine - 78

Malcolm Stewart - 77

Alex Martin - 67

Les Smith - 50

Shane Sewell - 48

Phillip Nicoletti - 47

Hunter Hewitt - 45

Austin Politelli - 43

Tommy Weeck - 41

Tyler Bowers - 41

PJ Larsen - 38

Kyle Peters - 38

Overall Results - Supercross Lites West Class: 15 Laps


Eli Tomac: 15:52.996

Dean Wilson: +9.758

Wil Hahn: +13.011

Martin Davalos: +17.329

Jason Anderson: +22.160

Marvin Musquin: +25.577

Matt Moss: +44.834

Ryan Sipes: +45.166

Scott Champion: -1 Lap

Landen Powell: -1 Lap

Chris Plouffe: -1 Lap

Ryan Smith: -1 Lap

Josh Greco: -1 Lap

Cole Martinez: -1 Lap

Preston Tilford: -2 Laps

Mitchel Alcorn: -2 Laps

Myles Tedder: -2 Laps

Beau Hudson: -3 Laps

Killy Rusk: -11 Laps

Billy Laninovich: -12 Laps

Final Point Standings - Supercross Lites West Class ( Race 9 of 9 )


Eli Tomac - 184 / 2012 Champion

Dean Wilson - 154

Marvin Musquin - 142

Cole Seely - 119

Jason Anderson - 111

Matt Moss - 106

Ryan Sipes - 96

Martin Davalos - 89

Billy Laninovich - 85

Nico Izzi - 78

Travis Baker - 75

Vince Friese - 73

Zachary Osborne - 67

Wil Hahn - 67

Tyla Rattray - 60

Max Anstie - 53

Scott Champion - 45

Michael Leib - 44

Killy Rusk - 39

Gareth Swanepoel - 34

Overall Results - Supercross Lites East/West Shootout: 10 Laps


Justin Barcia: 10:26.745

Eli Tomac: +1.949

Martin Davalos: +4.754

Ken Roczen: +5.214

Marvin Musquin: +6.029

Wil Hahn: +7.307

Ryan Sipes: +15.039

Malcolm Stewart: +19.511

Blake Wharton: +23.549

Matt Moss: +24.399

Dean Wilson: +24.408

Blake Baggett: +26.851

Justin Bogle: +27.959

Kyle Cunningham: +29.033

Matthew Lemoine: +33.085

Billy Laninovich: +33.673

Jake Canada: +37.517

Hunter Hewitt: +41.304

Jason Anderson: +55.575

Scott Champion: +1:09.640