Paralyzed Police Officer Using ATV As Rehab Tool
Chaparral Motorsports
|
April 27, 2012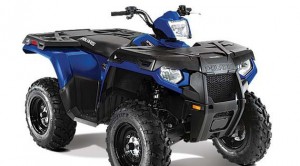 A Pennsylvania police officer shot and paralyzed in the line of duty is using ATV riding to help aid his rehabilitation.

Clairton Officer Jim Kuzak was shot in 2010 and lost much of the mobility in his legs. Since then, he's been mostly confined to a wheelchair or slight movement with the aid of a walker. In the back of his mind, however, Kuzak always hoped to get back on his Polaris ATV.

Under the watchful eyes of his physical therapist, Kuzak got back on the ATV using special leg prosthetics to keep his limbs in place. Kuzak later told the Canon-McMilan Patch that it was the first "normal" thing he was able to do since he was shot.

"It's nice to get back to this," Kuzak told the news source. "It felt like I was meant to be here a lot sooner. They told me about this last summer, and I couldn't come soon enough. I'll try this, then we can get into something more, I don't want to say 'daring,' but..."

As it turns out, ATV riding was a somewhat perfect activity for Kuzak, as the accelerator and brakes are all in the handlebars. Kuzak says he'd like to get out on the ATV more often in the future.