Jon Kirham Wins British Superbike Opener
Chaparral Motorsports
|
April 13, 2012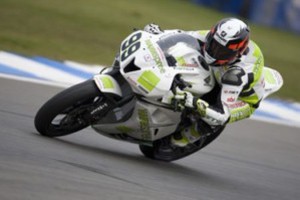 Jon Kirham won the opening round of the MCE Insurance British Superbike Championship, despite bad weather that ultimately caused the second race of the weekend to be cancelled.

Kirkham's debut for the Samsung Honda team got off to a perfect start as he beat Alastair Seeley to the finish line by .136 seconds. The wet weather made for a hazardous track, with more than a dozen riders crashing during the race.

Kirkham jumped out to the early lead in the race, but Seeley rode hard and avoided several crashes to eventually get out in front. However, Kirkham kept things close and eventually found the opening to pass Seeley for the win.

"He got into a big slide and I just held my breath and squirted the bike through," Kirkham told the news source. "I'm ecstatic - my first race with the team, my second win in the championship, this is just perfect."

Due to the wet weather, officials ruled that the track had deteriorated and become unsafe, causing the second race of the weekend to be cancelled. The race will be made up at a later date.