Carlos Checa Dominates Second World Superbike Weekend
Chaparral Motorsports
|
April 6, 2012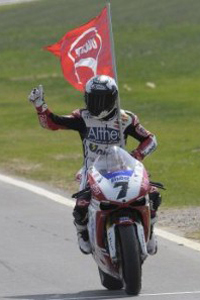 The second weekend of World Superbike racing was all about Carlos Checa, who took command of the point standings with a dominant performance that saw him winning both races and taking the maximum points available.

The defending champion was trailing Max Biaggi going into the weekend, mainly due to Checa crashing in the very first race of the year. Although Checa won the second race of the first weekend, it wasn't enough to beat Biaggi, who took second and jumped out to the overall lead in the standings.

Yet now it appears Checa has fully recovered from his initial stumble. The defending champion got out to an early lead and was never really challenged in either race this weekend. Meanwhile, Biaggi had a disappointing performance and finished no better than fourth in his two races, allowing Checa to surpass him in the standings.

Both races for the weekend were nearly identical, with Tom Sykes and Leon Haslam finishing in second and third in both contests.

In terms of points, Biaggi is now four behind Checa, with Sykes just two behind Biaggi thanks to numerous podium finishes. Haslam and Marco Melandri of BMW are nearly 30 points behind Checa in fourth and fifth, respectively.