Vance & Hines XR1200 To Introduce Playoff Series
Chaparral Motorsports
|
March 30, 2012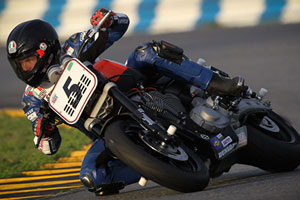 This year's Vance & Hines XR1200 Series will be moving to a format similar to playoffs in other sports competitions. The competitors will have their points reset with five races left to go and will be left to battle it out down the home stretch.

The top 10 riders in the points standings will all qualify for the last five races of the season, which will have a $60,000 prize for the winner. The 10 riders will have their points reset to 1000 in order to level the playing field and open up the competition so that anyone can win down the stretch, reports Cycle News.

Playoff racing isn't all that uncommon in motorsports, as it is used in NASCAR and several other racing series. It's generally thought to help build excitement, as series without this format may be decided early on and the last few races will be meaningless.

"This is truly going to raise the stakes by motivating all riders to push for the best results from the early rounds of the season," Terry Vance told Cycle News. "With the combined $120,000 race purse and $60,000 Showdown purse funded by Harley-Davidson and Vance & Hines, we are doing more than ever to offset the costs of racing for the XR class competitors."