Shoei X-12 Motorcycle Helmet Product Review
Chaparral Motorsports
|
March 29, 2012
When it comes to motorcycle gear and accessories, helmets are the most important item that riders can buy. It may be tempting to spend all your money on a cool-looking motorcycle jacket, but the helmet is ultimately your first line of defense in an accident, and thus should be where you spend the majority of your budget. One such helmet that riders should consider is the Shoei X-12.

The Shoei X-12 is the evolution of the brand's popular X-11 helmet. Those who previously rode with an X-11 will want to take a look at the X-12 as the natural successor. However, there are some changes to the helmet that riders should be aware of before they commit to their purchase.

One of the big differences is how the helmet fits. Many helmet manufacturers save money by limiting the number of helmet shells they produce. These companies may offer a wide variety of sizes, but there will really only be one or two actual helmet shells, with varying amount of padding to make up the difference. For the X-12, however, Shoei went all out with five different helmet shells. This means that no matter which size option a rider chooses, they'll get a unique shell that fits their head.

[caption id="attachment_11178" align="alignright" width="300" caption="When it comes to motorcycle gear and accessories, helmets are the most important item that riders can buy"]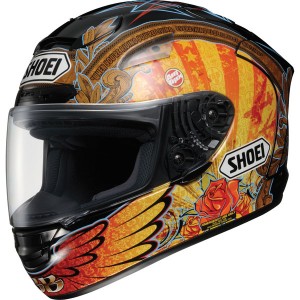 [/caption]

However, this also means that the X-12 will likely fit differently than the X-11 used to. Riders may need to move up or drop down a size depending on their head shape. If possible, those interested in the X-12 who used an X-11 should be sure to try the helmet before they buy, as this will ensure they get the right size. If none of them feel right, Shoei offers optional cheek pads in six different thicknesses that may make the X-12 fit better.

The interior lining of the X-12 is where the helmet really shines, as it is plush and comfortable while still offering support for the head and neck. Riders won't feel any hard parts of the helmet pushing through the lining. The padding also does a good job of sealing up the helmet to prevent air from getting in, which cuts down on noise.

The X-12's ventilation system isn't all that different from the X-11, and Shoei has five intake and 10 exhaust vents located around the entire helmet. Although the X-12 has received universal praise for its fit, build quality and comfort, the ventilation is one area where controversy has been raised. Some say the top vents are too narrow to let a significant amount of air in, and the chin vent directs air up to the visor rather than allowing it straight through. Again, this is an area where it would be helpful for riders to test the helmet for themselves, as they may prefer Shoei's method of ventilation.

In terms of safety, riders are getting just about the best that money can by. The X-12 is DOT-approved like nearly all helmets, but it also meets the Snell 2010 criteria for helmet safety. This is an optional set of standards that goes above and beyond the DOT requirements, meaning that riders can know they'll be highly protected in case of a crash.

The key drawback for many riders when it comes to the Shoei X-12 will be the price. It's no secret that many of Shoei's products are expensive, and a high-end model like the X-12 isn't any different. However, those who do choose to invest in this helmet are not likely to be disappointed, as the old adage rings true - you get what you pay for.