Paul Whibley Wins Moonshine Cross-Country
Chaparral Motorsports
|
March 29, 2012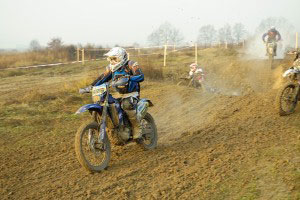 Paul Whibley is off to a terrific start this season, winning two of three races in the Grand National Cross Country series and now racking up a win in the Off-Road Motorcycle/ATV Championship (OMA) as well.

According to Cycle News, Whibley turned in a dominating performance at the recent race, grabbing the holeshot and never looking back throughout the day. Whibley got far out in front and ultimately went wire-to-wire, with no other rider really challenging him.

The defending OMA champion tore up the Moonshine Cross-Country track in Dawson Spring, Kentucky, and reminded fans why he's one of the best off-road riders in the world.

"I felt fairly comfortable, fairly loose, so I thought I'd just set my own pace," Whibley told the news source. "I managed to inch away a little bit. Once we got that gap, it was a pretty clean run."

Nick Fahringer finished second, while Russell Bobbitt got on the podium in third. These two riders provided much of the excitement for the day as they battled for second place, but in the end Fahringer was able to pull away.