James Stewart Almost Back From Injury
Chaparral Motorsports
|
March 29, 2012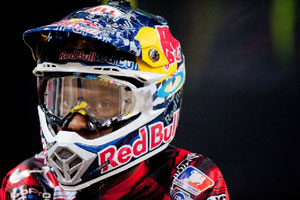 At this point, it appears that the AMA Supercross series is all but over, as Ryan Villopoto has built up a commanding lead. However, second and third place are still up for grabs, and one of the riders with a chance at those spots is James Stewart.

Unfortunately, Stewart was sidelined with an injury two weeks ago after taking a nasty spill during qualifying. The rider injured his hand, knee and was also struck in the head. Team members later revealed that Stewart was given a concussion test to see if he would be able to go back out and ride. Joe Gibbs Racing team manager Jeremy Albrecht told USA Today that Stewart just barely passed the concussion test.

"It was right on the edge," Albrecht said. Ultimately, the decision was left up to Stewart's father, who decided that the rider shouldn't risk going out on the track again.

It now appears that Stewart could be ready to go for this weekend's Houston Supercross, although that hasn't officially been confirmed yet. Cycle News reports that the rider took to Twitter to update fans on his progress.

"Giving you a quick update on my injury," Stewart wrote on his Twitter feed. "Getting better with the hand and knee. Not sure if I'm racing this weekend or not. But improving good."