Shoei Neotec Motorcycle Helmet Product Review
Chaparral Motorsports
|
March 28, 2012
Motorcycle helmets are one of the most important purchases that a rider can make, as this product could literally save your life in the event of a crash. Thus, its critical for riders to do their research into the product before they buy and to ensure they get something that fits comfortably and protects them well.

Shoei is one of the more well-known helmet manufacturers, and their Multitec helmets are extremely popular among many riders. Those who keep up with the latest news on motorcycle gear and accessories know that Shoei has recently been talking up a brand-new helmet, called the Neotec.

Initial rumors were that the Neotec would replace the Multitec, but that turned out not to be the case. The Multitec will still be produced for those riders who are happy with their Multitecs. Instead, think of the Neotec as the upgraded version of the Multitec. It's more expensive, but comes with a bulk of extra features riders may find useful.

The Neotec is a flip-up motorcycle helmet, meaning the rider can grab the front of the helmet by the chin and flip the entire front part up to expose their face. This is similar to the Multitec, but there are some key differences as well.

Perhaps the biggest area that the Neotec has improved is in terms of ventilation. Longtime riders know that this is one of the most important aspects of a motorcycle helmet and contributes greatly for comfort. The Neotec has a new rear exhaust vent and has made significant changes to the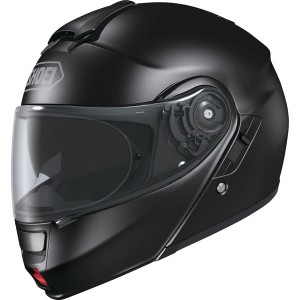 other ventilation originally present on the Multitec. Shoei claims that this allows for 300 percent better air circulation inside the helmet, and it appears that most critics agree it's a major difference.

Another area of importance is the sound. Motorcycles are large machines, and helmets have the job of not only protecting the head but also acting as a dampener against noise. The key here for the Neotec is the new liner, which is now removable for the first time. The liner has more of a three-dimensional shape than the Multitec and now forms a complete seal at the bottom of the helmet. This is where most of the sound enters, so riding with the Shoei Neotec is quiet.

The face shield on the Neotec is a bit wider, offering more visibility than the Multitec. One of the more welcome features added to the Neotec is the addition of a high-quality sun visor right behind the face shield. On bright days, riders can simply flip this visor down and enjoy full protection from the sun. This eliminates the need for wearing goggles or sunglasses inside the helmet, allowing for more head room and less squinting in sunny weather. The helmet comes with anti-fog inserts as well.

Obviously, the helmet is DOT-approved and provides top protection in the case of a crash. The excellent build quality of the helmet means that riders need not have any fears about cracking or damage, as can be the case with some of the cheaper helmets on the market.

Overall, the Neotec is a top-of-the-line product and simply one of the best motorcycle helmets money can buy - although you'll have to spend a bit more to get your hands on one. The Neotec improves on the already-successful Multitec in just about every way and offers superior safety and comfort for serious motorcycle riders.