John Hopkins Returns At Imola Superbikes
Chaparral Motorsports
|
March 26, 2012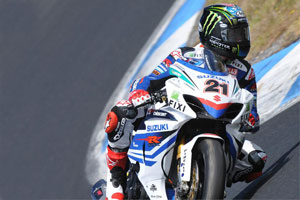 John Hopkins flew to the UK at the weekend to prepare for his season debut on the #21 Yoshimura-powered GSX-R1000.
Crescent Fixi Suzuki's John Hopkins has been given the all-clear by his hand surgeon in America and will join team mate Leon Camier for this weekend's second round of the World Superbike Championship at Imola in Italy.

Hopkins, who broke his hand during the team's first test at Phillip Island in Australia last month and missed the season opener there, flew to the UK at the weekend to join the team and prepare for his season debut on the #21 Yoshimura-powered GSX-R1000.

John Hopkins:
"I am so pleased to get the all-clear and cannot wait to get on the bike again. I had been given strict instructions not to do any riding this week, which has been a bit frustrating, but I have occupied my time well with physiotherapy, training and numerous spells in the hyperbaric chamber. All of this has helped me to recover quickly and I have no doubt that I will be as fit as can be at Imola.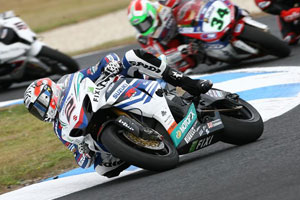 John Hopkins will join Leon Camier at Imola in Italy.
"It's been very busy recently. On Tuesday, I was in the hyperbaric chamber and then drove three hours each way to see my nutrition doctor in Palm Springs. Before that I have really been putting in the hours on my mountain bike and also on the cardio machines in the gym.

"I am really happy with my hand, how well it has been healing; and the range of movement I have got. When I saw the doctor on Wednesday, he told me that the bone was fully healed and everything was OK and I could start riding again. I was hoping to get on my dirt bike before leaving for the UK but I have just sold my house and there's loads of stuff to sort out, but I'll try and fit in a ride somehow before Imola. I am really looking forward to catching up with everybody at Crescent Fixi Suzuki and getting back to the racetrack. I've missed it, but I feel ready and raring to go."

Leon Camier: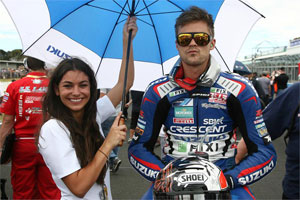 I'm really looking forward to Imola and being on track again.
"It seems a long time since Phillip Island so I'm really looking forward to Imola and being back on track again. The last time I raced in Imola, I ended up on the podium and that's a memory I'd like to repeat. I am happy with the chassis and base set-up we found in Australia, so we'll try and build on that in the first practice session and keep improving. The first race of the year is always a bit difficult, but I feel we came away with a lot of good feedback and information and we will use that to make the Crescent Fixi Suzuki better. I've been training hard recently, doing a lot of cycling and feel in really good shape. Now, all I want is to get back on the bike and start racing again."

Jack Valentine - Team Manager: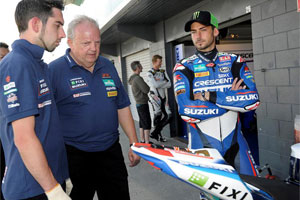 John Hopkins with team manager Jack Valentine.
"Since Phillip Island, we've been pouring over all the data and working on improving the bike. Leon was pretty happy with the chassis and base set-up, so we've been looking at other things - including improving tire wear. John's crew chief Lez spent some time in Yoshimura Japan after Phillip Island, sharing some data and ideas to improve the Crescent GSX-R1000. They found a couple of areas where improvements can be made and the first practice at Imola will give us a chance to see how these ideas make the bike feel.

"Obviously we're all delighted to have John back with us and it gives the whole team a boost. From what his doctor says, the hand should be more-or-less at full strength. I would like John to take the first day or so in Imola steadily, build up gradually and get race fit as soon as he can without any stress. I am looking forward to Imola and a positive weekend, with good, solid results."