Team TCX Kicks Ass In Daytona!
Chaparral Motorsports
|
March 22, 2012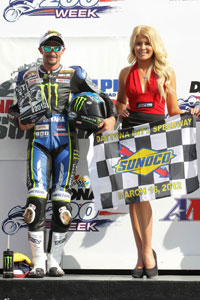 Josh Hayes put the new TCX R-S2 boot on the top of the podium in its first race.


Josh Hayes And Larry Pegram Give R-S2 Boot A Big Kick-Off
Forget kicking back in the Florida sunshine for Spring Break... Team TCX went to Daytona Beach with the intent to kick off the 2012 roadracing season by kicking sand in the face of the competition! Defending AMA Superbike champ Josh Hayes picked up right where he left off, grabbing the provisional pole and winning the first race of the year - a perfect way to premiere the new TCX R-S2 boot. Just a step off the box was Larry Pegram, also sporting the R-S2 boot in a fine 4th place ride.

Starting with its internationally patented Torsion Control System (T.C.S.), TCX built this boot from the ground up to ensure these boots really are at the top of the mountain when it comes to competition grade roadracing gear! T.C.S. was originally devised to counteract excessive torsion of the ankle while still retaining natural motion for the foot and introduced back in 1999 when the company was founded. For 2012 the introduction of carbon fiber to this system reduces weight while increasing structural support and improve impact resistance. However fit is every bit as important as function, especially if you are planning to race 200 miles in the Florida sun!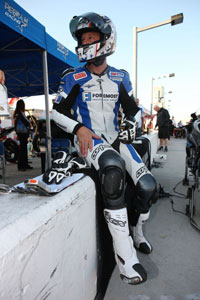 Larry Pegram kicking back in Daytona before his 4th place finish.
For that reason, the Precise Air Fit System was developed by TCX's R&D center at the factory in Treviso, Italy. Simply by inflating the air chambers in the boot, a more exact fit for any foot can be custom-tailored on the spot every single time the boot is worn. In addition to comfort, TCX engineered P.A.F.S. as an additional safety feature, protecting the instep and shinbone when properly inflated. Further enhancing the comfort factor is the fact that the footbed is fabricated from a highly breathable polyurethane, complete with a gel insert in the heel to absorb vibration and deaden impact. The "soft pad" interior lining also acts like a memory foam adapting to the shape of the ankle and offering all-day comfort.

Additional features include:



Metatarsal Control System (M.C.S. uses the same concept as the T.C.S. to protect the toes)

Polyurethane shin plates with mesh air intakes

Polyurethane shift pad integrated into the sole

Whether racing the high banks of Daytona or just getting your kicks on Route 66, the R-S2 is the ideal combination of comfort, protection, fit and finish. Suggested retail price for the top of the line boot is just $399.99. No waiting for the other shoe to drop, either... the same R-S2 boots that Josh Hayes and Larry Pegram kicked butt in Daytona with are available at stocking TCX dealers now! For more information regarding TCX Boots USA, call (603) 758-6485, or click on www.tcxboots.com and be sure to "Like" us on Facebook: www.facebook.com/TCXBoots