Tommy Hayden Subs In For Two More Races, Possibly More
Chaparral Motorsports
|
March 21, 2012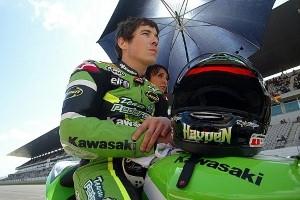 Y.E.S. Graves Yamaha has confirmed that Tommy Hayden will be riding the YZF-R6 in the AMA Pro Road Race Daytona SportBike Championship for at least the next two races as injured rider Garrett Gerloff heals, reports Cycle News.

Hayden was brought in on short notice following Gerloff's injury, but was able to manage a seventh-place finish at the Daytona 200. Now, the rider says he hopes to train and practice on the bike ahead of the next race in Atlanta.

"The 600 was going to be challenging enough," Hayden told the news source. "There's a lot of talent out there, a lot of young kids, a lot of kids trying to prove themselves. And it was cool to ride around with them and see that first hand. So I'm not going to go there and expect to show up and dominate then, but I hope to put up a little bit better fight and be closer to the front."

Gerloff had a rod inserted into his femur bone, which he broke during practice while taking a turn. The team expects him to be back following the next two rounds of the series, but also revealed that they have no plans to rush the young rider back into action, preferring to stick with Hayden until Gerloff is 100 percent healed.