New Icon 1000 Lineup Offers Stylish Motorcycle Gear
Chaparral Motorsports
|
February 22, 2012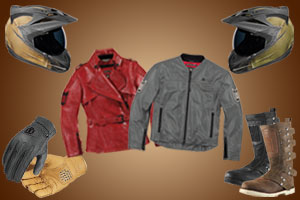 Icon's new 1000 collection evokes the power and aggressiveness of 1000cc displacement motorcycles.
Motorcycle apparel manufacturer Icon recently unveiled their new 1000 collection, which is a brand new line of motorcycle boots, jackets, gloves and more. The collection's name stems from the power and aggressiveness of 1000cc displacement motorcycles.

With a look and style influenced by post-apocalyptic movies, the new Icon lineup is made for those who want to view the end of the world from the back of a bike. The centerpiece of the collection are the new motorcycle jackets, which include the Chapter and Shorty jackets for men and the Federal jacket for women. Some of these jackets will be extremely limited, as they have uncommon colors like gray or red that Icon is only manufacturing in short supply. They also include D30 CE armor, which is thin and flexible, yet solidifies automatically when impact is detected.

The collection also features new [mageProductLink sku="038-3403-0296" title="Icon 1000 Elsinore Boot"]Elsinore boots[/mageProductLink], which seem to be a mix of the Wild West era and modernity. These will be sold in brown or black colors. The new Battlescar motorcycle helmets also come in a selection of interesting colors, including green, brown and white.

The limited availability of the new Icon 1000 product line combined with its stylish design seems sure to make it a hit among riders.