John Hopkins Injures Hand After Amputating Finger
Chaparral Motorsports
|
February 14, 2012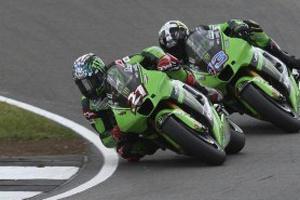 There aren't many motorsports riders out there who would amputate their finger just to ensure they wouldn't miss a season of motorcycle racing, but that's exactly what John Hopkins did in order to quicken his recovery time ahead of the 2012 World Superbike Championship.

Unfortunately, it now appears that he may have to miss some time anyway, as he injured the same hand during a crash at the very first test of the World Superbike season. Hopkins fell going into turn two and landed directly on the hand from which his ring finger was amputated. Hopkins' Suzuki team has announced that he has broken a bone in his hand and will likely miss the first race of the season, if not more.

"I will fly home tomorrow and see my hand surgeon, Doctor Chao, and we'll decide what has to be done," Hopkins said in a team press release. "I would say that my chances of racing at Phillip Island next week are very slim, but the important thing is to get the hand sorted correctly and be completely right before I race. It may be better to miss Phillip Island and then use the six weeks or so before Imola to get back to 100 percent - we'll see."

Starting the season with no points after the first race means it will be an uphill battle for Hopkins when he does return to the track, but there are enough races in the season that he could still pull off a victory if he races well.