2012 AMA Supercross Anaheim 2 Results
Chaparral Motorsports
|
February 7, 2012
Ryan Villopoto Wins In Anaheim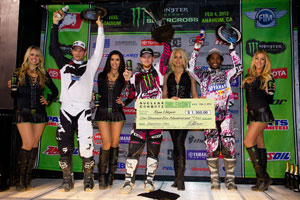 2012 AMA Supercross Anaheim 2 Winner's Podium - Photo: Frank Hoppen
It took five races into the season, but the AMA Supercross premier class has its first two-race winner in the form of Ryan Villopoto, who put together a dominant performance to take the Anaheim Supercross.

Villopoto, Chad Reed, Ryan Dungey and James Stewart had all won one race apiece going into the Supercross, leading to a very close competition in the overall points standings. However, it was Villopoto who took over the points lead after going nearly wire-to-wire in the win.

The Monster Energy Kawasaki rider grabbed the holeshot, but Reed wouldn't let him hang on for long, passing him on the opening lap. Rather than sit back and be patient, Villopoto quickly responded by getting around Reed and began building his lead, eventually finishing nearly five seconds in front.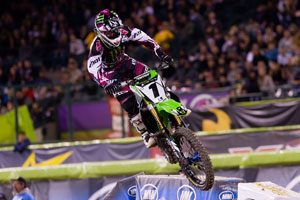 Ryan Villopoto put together a dominant performance - Photo: Frank Hoppen
Reed was not able to hang on to his second place, as he was eventually passed by Stewart. Dungey, meanwhile, turned a bad start into a fourth-place finish.

"James and Chad were riding good tonight," said Villopoto. "I knew I had to stay on my toes and not make a mistake. We need to take it one race at a time. I had a great start and to be perfect on the start is difficult."

In the overall standings, Villopoto now holds a three-point edge on Reed, with Dungey in third and Stewart still close in fourth.

James Stewart On The Box Again At Packed Angel Stadium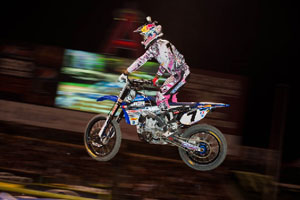 James Stewart went from LQC to 2nd in a hard fought race.
The second visit of the Monster Energy AMA Supercross series (also an FIM World Championship) to Angel Stadium, Anaheim, California saw JGRMX's James Stewart collect his third podium trophy in a row by finishing second to Ryan Villopoto on Saturday night. A capacity crowd witnessed a Villopoto-Stewart-Chad Reed podium for what was the fifth round of seventeen.

It was an eventful evening for Stewart. While leading the first heat he mistimed a rhythm section and went down. In discomfort but electing to attempt the Last Chance Qualifying race the former champion made it through to the Main Event but without an ideal gate pick. Stewart dodged his way through the middle of the pack to reach title rival Reed and was able to demote the Australian but was then powerless to close up to the rear wheel of Villopoto.

"To get second tonight was actually pretty good considering how the heat race went and how beat up I feel right now," he said. "It [the crash] knocked the wind out of me, and my ribs and my wrist, so I'll be sore tomorrow, and probably Monday, but we'll be back. It's nothing we can't handle, but I was just trying to get through the race from there."

"I didn't get the greatest of starts and made some passes. I made my way up to third and ended up getting by Chad six or seven laps into the race. I was trying to salvage [something]. I felt like I could have gone a bit faster but I will take that. It was tough out there and definitely one of the toughest of the year!"

"To get second tonight was actually pretty good considering how the heat race went and how beat up I feel right now."
- James Stewart
Stewart, whose victory last weekend in Oakland took him to 43 AMA SX career triumphs and means that the Floridian has stood on top of the podium every season for the past eight years, is now fourth in the standings and just 13 points (25 counts for a win) from Villopoto at the peak of the table. Team-mate Davi Millsaps was seventh in Los Angeles and holds ninth place in the points.

With Monster Energy Yamaha's Zach Osborne now beginning to focus on his European programme Yamaha were best represented by Star Valli Racing's Nico Izzi as the American took his YZ250F to fifth place in the West Coast Lites category.

The championship moves down to San Diego for round six next Saturday.

Source: www.yamaha-racing.com

Ryan Dungey Earns 4th Overall At Anaheim 2 Supercross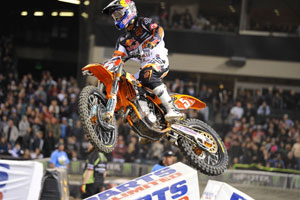 Ryan Dungey earned 4th overall - Photo: Hoppenworld.com
Red Bull/KTM Factory Supercross rider Ryan Dungey earned fourth overall for the second consecutive weekend at the fifth round of the AMA Supercross Series at Angel Stadium.

A sold out crowd was on hand for the fifth round of the series. Dungey looked great all day finishing the timed practice sessions with the fourth fastest time. He was placed in the first Supercross class heat race. He had a great jump off the gate rounding the first corner in third position. After one lap he was able to move around Josh Hansen to take over second place. He then set his sights on the early leader James Stewart. On the fourth lap of the heat, Stewart suffered a crash on his own which allowed Dungey to sneak pass. Dungey moved into the lead and went on to take the heat win.

Dungey's heat win earned him a great gate choice for the main event. He chose a spot in the middle of the starting gate. When the gate dropped he leaped forward and found himself in sixth place at the end of the first few corners. It took him four laps to pass Davi Millsaps but he finally got around him with a smooth inside pass through a corner. Dungey spent the remainder of the first half of the race reeling in the fourth place ride of Justin Brayton. On the twelfth lap of the main event, he was able to secure the pass on Brayton in the same corner he passed Millsaps and took over the position. He continued to knock off impressive lap times throughout the remainder of the event but the top three riders had already pulled out to a sizeable gap that he was not able to close.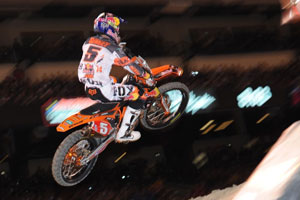 Ryan Dungey had a better start, but vows to improve - Photo: Hoppenworld.com
"I am not pleased to finish off the podium for a second weekend in a row. I had a better start in the main event this weekend but I struggled to make my passes and allowed those guys to move ahead. I will continue to work on my starts for next weekend and make sure I get my KTM back on the podium to remain in the points chase for the championship," stated Dungey.

Next Round: San Diego, CA - February 11, 2012

Brett Metcalfe Fights Hard For Anaheim Top 10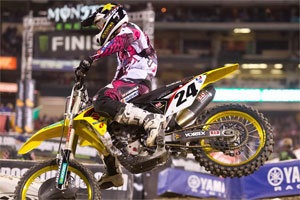 Brett Metcalfe raced to another top ten finish.
Yoshimura Suzuki's Brett Metcalfe raced to another top-10 finish at Saturday night's fifth round of the AMA/FIM Supercross series at Anaheim in California.

Although Australian Metcalfe admitted he was a little underwhelmed by his performance, the Suzuki rider still put in some impressive laps in both his heat race and in the Main Event: In the former, Metcalfe overcame a rough start to card an eighth-placed result and transfer to the Main. And in the 20-lap Main, he again struggled at the start but then charged even harder on his Yoshimura Suzuki RM-Z450 to bring home a ninth-placed finish.

"I had a rough weekend last week," admitted Metcalfe. "I went down and didn't have a good result. So I was really determined to put in a good result at Anaheim. I was feeling good on the track, but I was a little bit 'off' all day, so that was kind of a 'bummer.' Going into the heat race, I felt good and things were looking up, but I wheelied off the gate and got a bad start and ended up finishing eighth.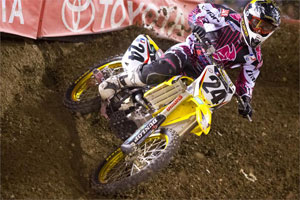 Brett Metcalfe put in some impressive laps.
"In the Main, I got another bad start and was never able to get it going. But now, I'm looking forward to getting back into it this week and working hard and coming out for San Diego and trying to get things back on track."

Team Yoshimura Suzuki Racing's next event is the sixth round of the 2012 AMA/ FIM Supercross Championship on Saturday, February 11th at Qualcomm Stadium in San Diego, California.

Marvin Musquin Lands On Podium At Anaheim 2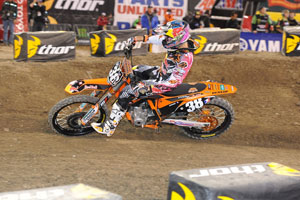 Marvin Musquin takes 3rd overall - Photo: Hoppenworld.com
Red Bull/KTM Factory rider Marvin Musquin made another trip to the podium at the fifth round of the AMA West Supercross Lites Series with a third place result in front of the sold out Angel Stadium crowd.

The two-time MX2 World Champion is focusing on consistency at this point in the series and has accomplished his goal the past two weekends. For the final Anaheim event, Musquin wowed the audience with a near holeshot in his heat event followed by a quick pass into the lead. He led the first three laps of the heat race before pressure from Eli Tomac forced him into making a mistake enabling Tomac to move into the lead. Tomac went on to take the heat win while Musquin finished a close second place.

Musquin's second place heat finish earned him a top gate pick for the main event. "I really focused on my starting technique this week during my training," remarked Musquin. "I have struggled at a few rounds with poor starts and it makes it too hard to come through the pack when I don't put myself in good position from the start."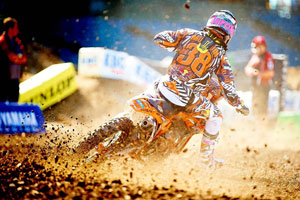 Musquin's 3rd place finish moved him to 3rd in the point standings - Photo: Hoppenworld.com
His hard work paid off as he quickly propelled his KTM off the line to garner a fourth place start in the main event. Within the first lap he moved his 250 SX-F into third position behind Eli Tomac and Cole Seely. Musquin was able to maintain third place throughout the 15-lap main event despite heavy pressure from Dean Wilson in the final five laps. "I could feel that Wilson was close but I just continued to ride my own lines and I was able to hold him off and secure the podium spot," commented Musquin.

Musquin's third place finish moved him to third overall in the point standings. With three rounds remaining Musquin is only 7 points shy of second place.

Next Round: San Diego, CA - February 11, 2012

JDR/J-Star/KTM Team Race Report - Anaheim 2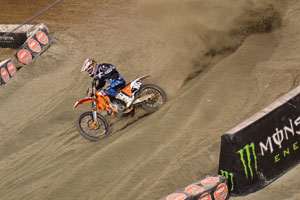 Matt Moss rebounds from poor start to 7th - Photo: Hoppenworld.com
Matt Moss Rebounds From Poor Start To 7th

JDR/J-Star/KTM Team rider Matt Moss turned a poor start into a remarkable race when he charged from dead last to 7th overall at the fifth round of the AMA West Supercross Lites Series held at Angel Stadium.

Moss and his teammate, Ryan Marmont, were both placed in the opening Lites heat. Both riders launched off the line with great speed and were inside the top five heading into the first corner. Marmont came out in 3rd position while Moss collided with another rider and went down in the turn. Marmont kept his composure and crossed the finish line in 5th to easily qualify for the main event. Meanwhile, Moss was busy climbing through the pack from his last place start. In only six laps he was able to pass over half of the field to earn the final transfer spot to the main event.

After his successful heat Marmont returned to the pits reporting a minor problem to his mechanic in regards to the motor. It resulted in his mechanic, Richard Matchett, replacing the entire engine in the small time frame between the heat and the main event. In exchange for his hard work, he was honored with the MMI Top Tech Award for the night.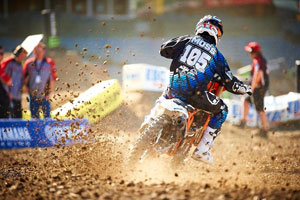 Matt Moss overcame a poor start and bike trouble with solid passes - Photo: Hoppenworld.com
With his bike in order Marmont hurried to the line to join his teammate for the start of the main event. When the gate dropped Marmont launched off the line mid-pack. Moss had a better jump but stalled his bike in the first corner. Moss quickly fired up the bike but suffered an additional delay in the next corner when he crashed with another rider causing him to again start the race from last position.

Moss quickly set to work and began to make up time on the riders ahead of him. By the third lap he had already passed six riders and was sitting in 14th. At the halfway point he had climbed into the top ten. From there he continued to turn impressive lap times and began to reel in more riders. He made three additional passes with only a few laps to go and eventually worked his way into 7th position.

"This is definitely not where I wanted to finish tonight," remarked Moss. "But after suffering a poor start, I am happy with how I rode through the pack and the passes I was able to make. Next week I need to improve my starts and battle in the front of the pack at the beginning of the race."

Ryan Marmont will be heading back to Australia for the Australian Motocross National Series - Photo: Hoppenworld.com
This race was the final race for Marmont who took home 17th overall for the night. Marmont will now head back to Australia to begin to prepare for the Australian Motocross National Series but not before stopping off to get married. A special congratulation goes out to him and his new wife on behalf of the entire JDR/J-Star/KTM Team.

Next Round: San Diego, CA - February 11, 2012

Anaheim 2 Overview And Point Standings
General Overview


Crowd: Capacity

Weather: Dry

Lap Record: 0:44.601 (Ricky Carmichael, 1/1/2006)

Last Years Winner: Ryan Villopoto

Next Event: San Diego, CA - February 11, 2012

Manufacturer Standings - 02/05/2012


Kawasaki - 110

Honda - 107

KTM - 103

Yamaha - 95

Suzuki - 63

Overall Results - Supercross Class: 20 Laps


Ryan Villopoto: 19:05.447

James Stewart: +4.821

Chad Reed: +7.410

Ryan Dungey: +17.416

Justin Brayton: +31.019

Kevin Windham: +38.995

David Millsaps: +40.343

Mike Alessi: +41.854

Brett Metcalfe: +44.561

Broc Tickle: +46.387

Jake Weimer: +55.009

Kyle Chisholm: +1:03.371

Nicholas Wey: -1 Lap

Andrew Short: -1 Lap

Weston Peick: -1 Lap

Kyle Partridge: -1 Lap

Justin Sipes: -1 Lap

Jimmy Albertson: -1 Lap

Jeff Alessi: -3 Laps

Joshua Hansen: -19 Laps

Point Standing - Supercross Class (Race 5 of 17)


Ryan Villopoto - 108

Chad Reed - 105

Ryan Dungey - 103

James Stewart - 95

Kevin Windham - 73

Jake Weimer - 71

Andrew Short - 59

Brett Metcalfe - 57

David Millsaps - 56

Justin Brayton - 53

Mike Alessi - 51

Joshua Hansen - 48

Kyle Chisholm - 43

Broc Tickle - 41

Nicholas Wey - 24

Ivan Tedesco - 21

Weston Peick - 16

Kyle Partridge - 15

Trey Canard - 14

Chris Blose - 9

Overall Results - Supercross Class: 15 Laps


Eli Tomac: 14:36.987

Cole Seely: +4.879

Marvin Musquin: +7.453

Dean Wilson: +11.458

Nico Izzi: +27.144

Michael Leib: +37.276

Matt Moss: +47.861

Vince Friese: +50.929

Travis Baker: +51.872

Martin Davalos: +52.765

Ryan Sipes: +56.340

Killy Rusk: +56.859

Billy Laninovich: -1 Lap

Bruce Rutherford: -1 Lap

Gareth Swanepoel: -1 Lap

Jean Carlo Ramos: -1 Lap

Ryan Marmont: -1 Lap

Topher Ingalls: -1 Lap

Gavin Faith: -1 Lap

Jason Anderson: -1 Lap

Point Standing - Supercross Lites West Class (Race 5 of 8)


Eli Tomac - 113

Dean Wilson - 91

Marvin Musquin - 84

Cole Seely - 79

Zachary Osborne - 67

Nico Izzi - 62

Tyla Rattray - 60

Jason Anderson - 54

Ryan Sipes - 53

Matt Moss - 53

Travis Baker - 50

Max Anstie - 45

Michael Leib - 44

Billy Laninovich - 43

Vince Friese - 38

Martin Davalos - 38

Teddy Maier - 21

Gareth Swanepoel - 16

Bruce Rutherford - 15

Wil Hahn - 13