Safety Tips For Motocross Riders
Chaparral Motorsports
|
February 3, 2012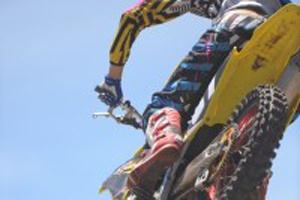 Motocross is a fun sport that is attractive to many thrill seekers. While part of the excitement might be racing at top speeds and going over large jumps, participants in motocross also need to take safety precautions to avoid accidents. Yahoo News recently listed some tips to prevent injuries for those planning on hitting the dirt trail soon.
First, the news source recommend that riders know how to fall. While it's ideal to stay on your bike the entire time you ride, this isn't always possible, so drivers need to know what to do in the case of an accident. There are ways to practice landing to avoid injury, and it's always important to try and spread out one's weight so a single body part doesn't take the brunt of the fall.
Stretching may seem like something that only joggers and weight lifters need to do, but according to the news source, it's just as important for motocross riders. While drivers should aim to stretch their entire body, special attention must be paid to the neck, hands, legs and shoulders.
Of course, dirt bike helmets are an essential part of rider safety. According to Motorcross-Racing-Tips.com, before picking out a new helmet, drivers should make themselves aware of the safety standards that apply in their region of the country.