Dainese D-Air Coming To America
Chaparral Motorsports
|
January 25, 2012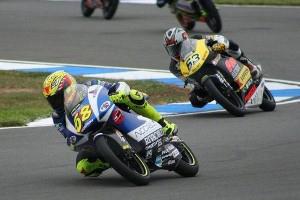 One of the most advanced pieces of motorcycle apparel in the world will soon become available in the U.S. - for the price of $4,000.
The Dainese D-Air is generally considered to be the best motorcycle jacket that money can buy. This full set of racing leathers gets its name from the internal airbags that automatically trigger in case of a crash, providing unparalleled protection to riders that are thrown from their bike. The airbags expand in an amazing 30 milliseconds, ensuring that the rider is fully protected as they hit the ground.
Yet the suit has serious racing chops as well. Internal GPS sensors allow the jacket to collect real-time telemetry data, giving racers feedback on their performance and where they can improve. It's even compatible with Google Earth, allowing riders to plot out their course beforehand.
The suit was introduced to U.S. audiences at a press conference that included racer Blake Young, who used the jacket in the final two races of the 2011 AMA Superbike season.
"I was glad to be riding in the D-Air suit," Young told Cycle News. "With the comfort and to know in the back of your mind that the protection is going to be there when you need it. For us, as motorcycle racers, when we're at the racetrack and doing our job, that's one less thing we have to think about. When I put my Dainese suit on, I know that it's going to protect me and it's on the cutting edge of technology."