2012 AMA Supercross Los Angeles Results
Chaparral Motorsports
|
January 23, 2012
Chad Reed Wins At Dodger Stadium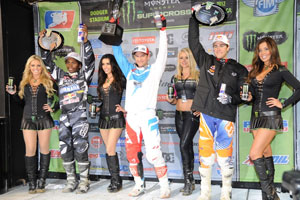 2012 AMA Supercross Los Angeles Winner's Podium - Photo: Hoppenworld.com
Honda rider Chad Reed got the win at the Dodger Stadium Supercross this past weekend, although it took a restart before the race was official.

Ryan Morais and Reed's teammate Trey Canard crashed almost immediately, and both needed medical attention. The decision was made to stop the race and restart it as medical staff worked on the two riders, who both suffered injuries.

On the restart, Jake Weimer shot out to the front of the pack, but his lead wouldn't last long.

Reed said that the secret behind his win was taking a look at the motorcycle tires he had been using and deciding to make a change.

"I've been bashing my head against the wall trying to figure out what the hell I've been doing wrong this year," Reed said. "I switched to a tire that I used last year and it worked. I am going to keep trying to get better each week. I will take the good with the bad and keep moving forward."

Although Ryan Villopoto finished fourth, it still appears as if the season will be his to lose. The rider crashed again this week, which sent him back to last place, but he blew by most of the field to recover and take fourth. The rider made a similar move last week, which seems to indicate that he'll win the majority of races in which he stays upright.

Ryan Dungey Maintains Points Lead Heading to Oakland
Ryan Dungey turned in another impressive finish - Photo: Hoppenworld.com
Red Bull/KTM Factory rider Ryan Dungey turned in another impressive finish with a 2nd place result at the third round of the AMA Supercross Series held at Dodger Stadium in Los Angeles, CA which allows him to maintain the points lead heading to the next round.

Threats of rain throughout the early afternoon caused the track crew to keep the course covered until 4:00pm. The crew did a great job of protecting the track, and once the cover was removed, riders were presented with a nearly dry track. Each practice group was given only one practice session before the night show.

Dungey qualified third fastest from the practice session to earn a top spot in heat number two. When the gate dropped for the heat race Dungey jumped to a 5th place start and was pushed back to 7th on the second corner. He quickly moved back into the top five and was able to finish 4th in his heat.

He had a decent gate pick for the main event and was able to leap off to a great start pulling the holeshot around the first corner. He and Ryan Villopoto quickly found each other and began a battle for the lead. Unfortunately, Trey Canard and Ryan Morais were involved in a bad crash on the first lap that caused the race to be red flagged. All the riders were removed from the course while medics assisted the injured riders.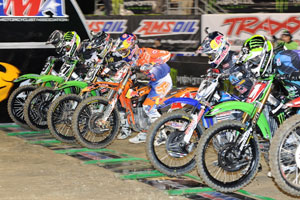 Ryan Dungey pulled off a fine start and finished second - Photo: Hoppenworld.com
On the restart, Dungey pulled off another fine start and rounded the first corner in 4th place. He remained in that position for the first seven laps in a four-way battle for the lead with Jake Weimer, James Stewart and Chad Reed. On the seventh lap, Reed jumped into the lead while Stewart put an aggressive block pass on Weimer which caused Weimer to crash and gave Stewart the position. Dungey was able to avoid the downed rider and moved into 3rd. Dungey and Stewart began to battle for 2nd place for the next four laps until Stewart crashed on his own and handed the position to Dungey.

Once in 2nd, Dungey maintained his pace and held on to the position to finish 2nd for the night. His third podium finish of the season makes him the only rider to have finished on the podium at each of the first three rounds. His consistency also pays off in the championship chase as he will retain the red number plate and the series points lead heading to the fourth event.

Now three rounds into the series, Dungey holds a 4-point lead over Ryan Villopoto and Chad Reed who are tied for 2nd place. "It feels great to hold the red number plate as we head into the fourth round," remarked Dungey after the race. "It's still early in the series, but it is definitely off to a good start for the Red Bull/KTM Team. I can't thank everybody on the team enough. They have put in so many hours and we have made so much progress on the new 450. The bike is running amazing."

Next Race: Oakland Supercross

Double Podium Result In Los Angeles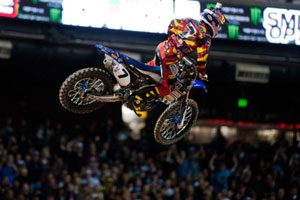 James Stewart picked up his first trophy of the season
Yamaha YZ450F and YZ250F motorcycles were present on both podiums at a well-populated Dodgers Stadium near downtown Los Angeles for the third round of seventeen in the AMA Supercross series, also an FIM World Championship. 35, 741 spectators saw JGRMX's James Stewart pick up his first trophy of the season with third position while Monster Energy Yamaha's Zach Osborne continued to build his speed and momentum on the SX circuit and scored his first career rostrum finish with third place in the West Coast Lites class.

Stewart had spent time after the second round in Phoenix last week honing his starts and the work paid off as he rounded the first turn and initial jumps in the top four. The Main Event in a cold LA had to be restarted after a crash involving Trey Canard and Ryan Morais and Stewart hunted the rear wheel of Chad Reed at the second time of asking. A close race was brought to a halt on the eleventh lap when a small mistake clipping the last obstacle of the timing section saw the former champion drop his machine in the following corner.

Stewart was able to remount and although his chances of victory had gone he still had to fight hard to defend his position from Ryan Villopoto. "We had a rough practice session but my starts were great so I have to give it up to the team," he said. "This result is a confidence builder for sure. I was 'there' and we'll go for it [the win] next week for sure. I always try my best and always go hard out there. We'll get better. I made one mistake and just couldn't bring it back."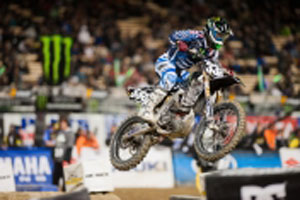 Zach Osborne scored a fantastic podium finish with his YZ250F
In the championship standings Stewart is fifth while team-mate Davi Millsaps - who was sixth in LA - holds tenth place.

In his penultimate race before heading back to focus on the FIM MX2-GP World Championship Zach Osborne scored a fantastic podium finish with his YZ250F. The American started well and held second place for much of the fifteen lap main event and although he was passed by Dean Wilson, pushed on to the chequered flag to guarantee third place. "This is unreal," he said. "A lot of people have worked so hard for us to be here and this result means so much. After four years in Europe it is great to come back in this way. I can't say enough about my bike; it got me right up there from the start. Oakland will be my last supercross this year and I'll look to build on this."

Round four will take place next Saturday at the Overstock.com Stadium in Oakland.

Source: www.yamaha-racing.com

Brett Metcalfe And RM-Z450 5th In Los Angeles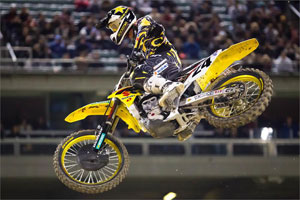 Brett Metcalfe raced to his best result of the AMA/FIM World Supercross season
Yoshimura Suzuki's Brett Metcalfe raced to his best result of the AMA/ FIM World Supercross season at the third round at Dodger Stadium in Los Angeles on Saturday night.

The RM-Z450-mounted Australian has now moved up into seventh place in the title chase following his hard fought-for fifth position in the 20-lap Main Event.

Although the Yoshimura Suzuki racer had been fighting illness all week, Metcalfe still gave it his all at Saturday night's event. Despite the day's practice being cut-short due to bad weather, he shined during qualifying and then put in a solid performance in his heat race to finish fifth.

In the Main Event - which was restarted after a red flag came out for downed riders - Metcalfe continued to shine: He got a good start on the Yoshimura Suzuki RM-Z450 and rode a smart, consistent race.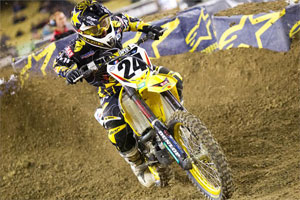 Said Metcalfe: "The whole day was the best we've had so far."
Said Metcalfe: "The whole day was the best we've had so far. The Yoshimura Suzuki RM-Z450 was working awesome and I think I had one of the best bikes on the track all day. The heat race went well and I ended up fifth, but I rode really well and I think it's the best ride I've had all year. Going into the Main, the RM-Z450 was working great out on the track. I got a better start on the re-start and I was up there early. After being sick, I knew I was going to be short of breath, so I just wanted to hit 20 laps consistently and ride hard, but not to the point where I'd push myself to the limit and start going downhill. So I just maintained myself the whole race and came home fifth; which was by-far the best result of the year."

Next weekend, the Yoshimura Suzuki team heads to Northern California for the next round of the AMA/ FIM World Supercross series. Last year, at the Oakland event, Metcalfe carded a fifth-place result and he is looking to improve upon that.

"I had a good run at Oakland last year," said Metcalfe. "We've made some good progress over the last week and I want to thank the whole Yoshimura Suzuki team. We've got a good package with the RM-Z450 and we're starting to make steps in the right direction. I'm looking forward to getting up front at Oakland."

In the Supercross Lites class, Rockstar Energy's Jason Anderson and Martin Davalos took fifth and nine positions respectively aboard their RM-Z250 Suzukis.

Dodger Stadium Image Gallery: CLICK HERE
Supercross Points (after 3 rounds): CLICK HERE

Eli Tomac Wins, Jumps To Front Of Lites Class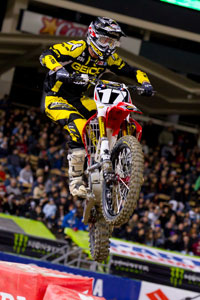 Eli Tomac jumps to front of class - Photo: Frank Hoppen
Things are heating up in the AMA Supercross Lites division, with the top two riders now separated by just one point after a wild weekend of riding.

Honda rider Eli Tomac got off to a good start during the Supercross at Dodger Stadium, and that was ultimately enough to get him the win. Tomac jumped out in front on the first corner and was never really challenged for the rest of the race. By the end, Tomac had amassed a 15-second lead on the second-closest rider, Kawasaki's Dean Wilson.

"That was crazy. I stuck around in that first corner," Tomac told Cycle News. "I rode a solid 15 laps like I should have the rest of the season. You can't compare when you get a good start - it's like night and day."

Thanks to their performances, Tomac and Wilson are now on top of the Lites standings. Wilson went into the race as the leader, but Tomac was able to edge him out for the top spot by just one point. Tyla Rattray is also in the hunt, just two points behind Wilson in third overall. Rattray took fourth place on Sunday, with Yamaha rider Zach Osborne getting on the podium in third.

Matt Moss Breaks Top Ten at Los Angeles Supercross
Matt Moss earned his season best finish at Dodger Stadium - Photo: Hoppenworld.com
Season Best Finish

JDR/J-Star/KTM Team rider Matt Moss earned his season best finish at the third round of the AMA West Supercross Lites Series with an 8th place result at Dodger Stadium.

Moss, who finished 15th at the opening round and missed qualifying at the second round, arrived to the Los Angeles-based stadium ready to put his JDR/J-Star backed KTM machine into the main event.

Heavy rainfall the night before the event forced the track crew to keep the track covered until the early afternoon. It also reduced the amount of practice to just one session for all riders. Moss made the most of his practice session and was able to qualify 9th fastest to earn a good gate pick in his heat.

Moss struggled with a poor start in his heat but was able to quickly charge forward to put his KTM into qualifying position. He moved into 7th place and maintained that position throughout the six lap heat to easily transfer to the main event.

As the gate dropped for the main event, Moss had a great jump off the start but was too far to the outside as they neared the first corner and was pushed out into a first turn crash with Cole Seely. Both riders were slow to get up and remounted in last position. Moss quickly went to work to pick off all possible positions and gain points.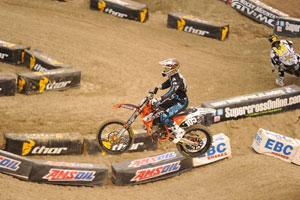 "My goal is to definitely finish in the top five," remarked Moss - Photo: Hoppenworld.com
By the third lap he had already passed four riders and was sitting in 15th. Two laps later he knocked off another rider to step up to 14th. At the halfway point he put a clean pass on Billy Laninovich to move into the top ten. Two laps later he moved to 9th when Marvin Musquin crashed out. Still full of energy he continued to drive forward and was able to make a last lap pass on Martin Davalos to move up to 8th. His result was his best of the season and a great starting ground for what's to come of this Australian Champion.

"My goal is to definitely finish in the top five," remarked Moss. "I've been struggling with my starts the past three rounds. I am going to work on improving in that area and then I think a top five finish will be within my reach."

Missing from the racing action was Moss' teammate Ryan Marmont. The young Aussie rider suffered a practice crash this past Tuesday that resulted in a concussion and caused him to sit out this weekend. Marmont will return to his doctor this week to see if he can be released in time for the Oakland Supercross event.

The JDR/J-Star/KTM Team will now begin preparation for the fourth round of the AMA West Supercross Lites Series to be held in Oakland, CA next Saturday, January 28, 2012.

Red Bull/KTM Race Report - AMA West Supercross Lites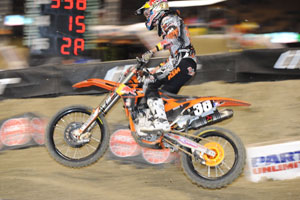 Marvin Musquin's smooth riding style and impressive lap times put him up front all night - Photo: Hoppenworld.com
Red Bull/KTM Factory rider Marvin Musquin was definitely one to watch at Dodger Stadium for the third round of the AMA West Supercrss Lites Series with his smooth riding style and impressive lap times that put him up front all night.

Musquin qualified third fastest from the one and only practice session the riders were given. The shortage of practice time was a result of a shortened schedule from rain threats throughout the day. The riders finally took to the track at 4:00pm where Musquin immediately clicked with the technical Los Angeles race track and clicked off a lap time inside the top three.

He looked equally impressive in his heat race where he started in 5th place. He quickly moved into the top three and finished the heat in 3rd place for a great gate pick in the main event.

In the main event, Musquin rounded the first corner in 7th position and quickly set his sights on the lead group. By the second lap he had passed Michael Leib to move into 6th place and on the fifth lap he caught and passed Tyla Rattray for 5th. He was the man to watch in the main event as he continued to put in impressive lap times and began to catch Dean Wilson and Zach Osborne who were battling for 2nd position. With three laps to go, Musquin was within a bike length of the two riders when he landed too far to the outside of a triple which planted his front wheel in a mud hole bringing his bike to a halt and throwing him over the bars.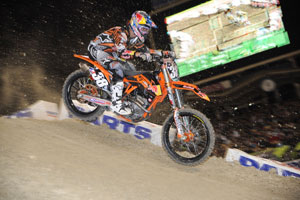 Musquin was credited with a 19th place finish for the day after a bad landing - Photo: Hoppenworld.com
Musquin was slow to get up as the handlebar had hit him in the crash and knocked the wind out of him. "I had trouble breathing after the crash so I could not return to my bike," remarked Musquin. "After further evaluation, they told me I do not have any broken ribs but will suffer some soreness and bad bruising but I should be good to go for Oakland."

Musquin was credited with a 19th place finish for the day only gaining two points in the championship chase. His result dropped him to 7th place in overall points. The riders will now prepare for the next event which will be held in Oakland, CA next weekend January 28, 2012.

Replace Overview And Point Standings
General Overview


Circuit Length: Unknown

Crowd: 35,741

Weather: Dry

Last Years Winner: Ryan Villopoto

Next Event: Oakland, CA - January 28, 2012

Manufacturer Standings - 01/23/2012


KTM - 67

Kawasaki - 65

Honda - 65

Yamaha - 48

Suzuki - 40

Overall Results - Supercross Class: 20 Laps


Chad Reed: 18:45.084

Ryan Dungey: +2.968

James Stewart: +8.503

Ryan Villopoto: +9.113

Brett Metcalfe: +22.881

David Millsaps: +24.509

Joshua Hansen: +28.304

Broc Tickle: +34.226

Kevin Windham: +39.082

Mike Alessi: +40.558

Jake Weimer: +47.698

Kyle Chisholm: -1 Lap

Nicholas Wey: -1 Lap

Andrew Short: -1 Lap

Weston Peick: -1 Lap

Kyle Partridge: -1 Lap

Joshua Grant: -18 Laps

Ivan Tedesco: -19 Laps

Trey Canard: DNS

Ryan Morais: DNS

Point Standing - Supercross Class (Race 3 of 17)


Ryan Dungey - 67

Chad Reed - 63

Ryan Villopoto - 63

Jake Weimer - 48

James Stewart - 48

Kevin Windham - 43

Brett Metcalfe - 38

Andrew Short - 36

Joshua Hansen - 36

David Millsaps - 28

Mike Alessi - 28

Justin Brayton - 25

Kyle Chisholm - 25

Broc Tickle - 22

Ivan Tedesco - 21

Trey Canard - 14

Nicholas Wey - 10

Chris Blose - 9

Kyle Partridge - 9

Ryan Morais - 6

Weston Peick - 6

Overall Results - Supercross Class: 15 Laps


Eli Tomac: 14:10.329

Dean Wilson: +15.498

Zachary Osborne: +16.631

Tyla Rattray: +18.159

Jason Anderson: +31.171

Max Anstie: +33.865

Michael Leib: +36.497

Matt Moss: +39.326

Martin Davalos: +42.248

Billy Laninovich: +44.171

Nico Izzi: +50.789

Ryan Sipes: +53.037

Vince Friese: +55.086

Teddy Maier: +58.320

Cole Seely: -1 Lap

Scott Champion: -1 Lap

Nick Paluzzi: -1 Lap

Gavin Faith: -1 Lap

Marvin Musquin: -3 Laps

Travis Baker: -14 Laps

Point Standing - Supercross Lites West Class (Race 3 of 8)


Eli Tomac - 63

Dean Wilson - 62

Tyla Rattray - 60

Cole Seely - 47

Zachary Osborne - 47

Jason Anderson - 44

Marvin Musquin - 42

Max Anstie - 32

Nico Izzi - 32

Billy Laninovich - 27

Ryan Sipes - 25

Michael Leib - 24

Matt Moss - 23

Travis Baker - 23

Vince Friese - 21

Teddy Maier - 21

Martin Davalos - 15

Wil Hahn - 13

Scott Champion - 10

Bruce Rutherford - 8

Nick Paluzzi - 4