Cyril Despres Wins Dakar
Chaparral Motorsports
|
January 18, 2012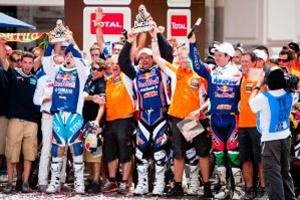 It was a back-and-forth race between Cyril Despres and Marc Coma, but in the end it was Despres who won the prestigious Dakar Rally for the fourth time in his career.
Coma had the lead going into the next-to-the-last stage of the competion, but got lost while riding through sand dunes. That likely cost Coma the race, as Despres was eleven minutes in front of him at the start of the short final stage. Despres ended up finishing tenth on the stage, but that was enough to beat Coma and win his fourth Dakar.
The two riders both race for KTM, but the manufacturer did not dominate the podium. Yamaha's Helder Rodrigues was strong competition and ended up taking third place overall.
"Today we won and it's simply fantastic," said Despres. "This is without a shadow of a doubt the toughest Dakar I've ever raced in. It was difficult physically, but even more psychologically. Challenging yourself every morning and fighting on the course takes its toll on your mind... I've done 90 or 85 rallies throughout my life, and this one was the one where I had to fight the hardest. Today will leave its mark on me."