Cyril Despres Takes Day 11 At Dakar
Chaparral Motorsports
|
January 16, 2012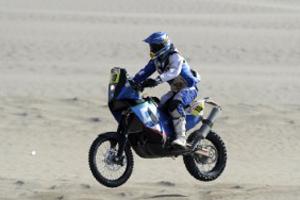 Cyril Despres had another good day at the Dakar rally, beating his chief rival Marc Coma by more than two minutes and extending his lead in the race overall to nearly two-and-a-half.
Despres and Marc Coma are the only two riders who really have a shot of winning at this point, and many of the stages thus far have seen them in first and second, respectively. However, in the eleventh stage it was Despres in first and Spaniard Gerard Farres in second. Coma finished in third, but wasn't too far behind Despres and Farres.
There was some controversy in Despres' riding during the stage, as he and Paulo Goncalves became trapped in a mudhole. Goncalves helped Despres get his bike free, but Despres rode off without returning the favor. Goncalves later took a six-hour penalty due to requiring help in order to free his bike.
Coma didn't tip his hand when asked about his strategy going forward, saying that he just needed to keep pace with Despres.
"It's difficult to define a strategy when Cyril is riding flat out in front," he told Cycle News. "I'll just have to follow him. It won't be flat out, but the pace will again be quick - like it has been since the beginning of the race."