Joan Barreda Wins Dakar Stage 10
Chaparral Motorsports
|
January 12, 2012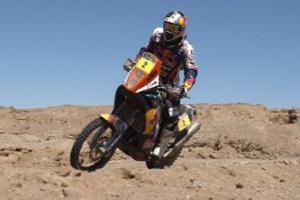 The Dakar rally is always exciting, but this year's race has really been a back-and-forth between KTM riders Cyril Despres and Marc Coma. Thus, fans were excited to see a new stage winner emerge on the tenth day of racing, when Spaniard Husqvarna rider Joan Barreda beat both riders.
Barreda won his first stage ever, topping Coma by approximately a minute and Despres by three. It won't do much to help his overall chances, as he's fourteenth in the standings even after the victory.
Meanwhile, Despres and Coma are so far out in front that they both took a fifteen-minute penalty today to change engines. That still keeps them 45 minutes ahead of the third-place rider, Helder Rodrigues.
Of the two, Despres is slightly in the lead, although Coma gained ground with his second-place finish. The riders are now separated by just 21 seconds, and it appears to be anyone's race going foward.
Despres was disappointed in his performance, but was sure to congratulate Barreda on his big win.
"It was all going well for me until the 225-km point and I'd managed to keep up a good pace," Despres told Cycle News. "But I made a small navigation mistake and that's when Marc [Coma] overtook me. He was with Joan Barreda, who I'd like to congratulate on riding a superb stage. At this level, every second counts!"