Product Review: Vemar Glow-In-The-Dark Helmet Helps Night Riders
Chaparral Motorsports
|
January 4, 2012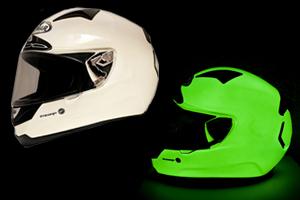 Riding at night can be a thrilling experience, but those who plan to do so need to take precaution to ensure their safety. Many opt to go with reflective motorcycle apparel in order to alert other motorists to their presence, but this is only really effective when the other driver is close.

The new [mageProductLink sku="043-5006-y-s" title="Vemar Eclipse Night Vision Full Face Helmet"]Vemar Eclipse Night Vision[/mageProductLink] motorcycle helmet looks to change that. This helmet is painted a normal off-white color during the day, but glows bright green at night, enabling drivers to spot motorcycle riders from a safe distance away.

The secret is a special phosphorescent paint that is applied in several layers over the base coat of the helmet. During the day, the helmet absorbs ultraviolet light from the sun and stores it. At night, the effect is clearly visible as the helmet glows a bright green color.

In addition to this unique feature, the Vemar Eclipse also features an adjustable ventilation system with four intake vents and two large rear exhaust vents. It also features a faceshield and removable cheekpads.

The glow-in-the-dark helmet is on sale now and is available in sizes from small to XXL.