Ryan Marmont To Fill-In For Injured PJ Larsen
Chaparral Motorsports
|
January 3, 2012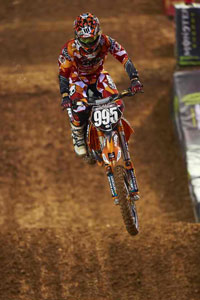 JDR Motorsports announced today that Australian racer Ryan Marmont will fill-in for the injured PJ Larsen on the JDR/J-Star/KTM Racing Team for the West Supercross Lites Series.

Marmont was originally scheduled to return to the U.S. to race select East Supercross Lites events before learning of Larsen's practice injury. "We are very appreciative that Ryan was able to move his schedule around to help out the team by traveling over earlier than expected," remarked JDR/J-Star/KTM Team Manager Nathan Ramsey.

Marmont raced select West Supercross Lites rounds in 2011 where fans watched his results improve from a 17th place at Phoenix to cracking the top ten at Los Angeles, Oakland and Anaheim 2. His strongest showing was at the Los Angeles round where he earned an impressive 7th place result in his first season of U.S. Supercross racing.

Marmont is currently racing for the Australian JDR/KTM Team and will stay in the US to compete in select West Supercross Lites events before returning to Australia to compete in the upcoming Motocross National Series.

The JDR/J-Star/KTM Racing Team has an impressive line-up this season with Ryan Marmont and Matt Moss racing in the West Supercross Lites Series while PJ Larsen will return to race the East Supercross Lites Series alongside his teammate Malcolm Stewart.