Nicky Hayden Breaks Shoulder, Ribs, While Training
Chaparral Motorsports
|
January 2, 2012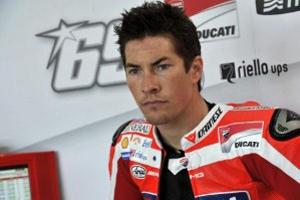 Nicky Hayden had a disappointing year for Ducati in 2011, and the season ended with a crash at Valencia that ended up causing a shoulder injury for the veteran rider. Although Hayden underwent successful surgery and got back on his bike, he recently sustained another injury while training at a track in Kentucky.
Hayden was clipped by another rider and hurt his shoulder blade in the crash, while also breaking two ribs. The rider was with his father Earl and his brother Tommy at the time of the accident.
While the Ducati competitor is expected to make a full recovery, it may not be in time for the first test of the season in Sepang, which takes place at the end of January. Hayden was also forced to miss the post-race test at Valencia due to his previous injury.
"Obviously, injuries are never good, but it's part of motorcycle racing," Hayden said in a team release. "Just like at Valencia, it was kind of a freak accident. I was starting to train again, like I normally do during the winter, at a private track near my house. I came up behind another rider, and he went to move out of the way. I wasn't going that fast, but he clipped my front wheel and I went down and landed pretty hard on my left shoulder, and that was it. It's disappointing, but there's nothing to do about it but heal quickly."