Daytona Wins Back Trademark To "Daytona Bike Week"
Chaparral Motorsports
|
December 26, 2011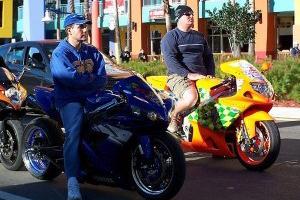 The town of Daytona has won a significant victory in court against a private company that claimed it had the trademark rights to the term "Daytona Bike Week." A judge recently ruled that the company had obtained the trademark fraudulently and was using the copyright to essentially extort money from local business owners.
Daytona Bike Week is one of the more significant motorcycle events of the season, and those who have been likely own some piece of motorcycle apparel that has the words and logo on it. A group of three companies: Consolidated Distributors, Inc., Joe Cool, Inc., and Mettemp Inc. were trying to take a cut of the profits for every piece of merchandise sold.
The Daytona Regional Chamber of Commerce fought back, however, and a judge has now ruled in their favor after several years of back-and-forth between the two parties.
"In our minds this was always a fight to protect our business community, our City, and the greater community at large, and specifically to fight off the Defendants' attempt to take something that wasn't theirs... and then charge people for using it," said Daytona Regional Chamber Chairman of the Board, Thomas J. Leek. "This ruling ensures that the mark will remain the property of the City of Daytona Beach and the community at large, for all local businesses and distributors to use in perpetuity. This is a significant milestone in that it will live as a warning to future trademark squatters, and provide protection for all to continue to enjoy the use the mark."