Kawasaki Teryx4 Is Fun For The Whole Family
Chaparral Motorsports
|
December 22, 2011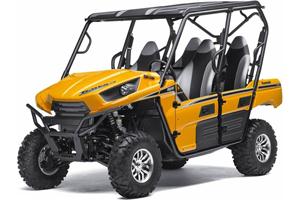 The world of side-by-sides is growing in more ways than one. Not only are sales up sharply for these vehicles, but many manufacturers are also making larger versions that can seat up to four people. That's the case with the brand-new Kawasaki Teryx4, which All About Bikes recently took out for a test drive.

The Teryx4 essentially takes the basic Kawasaki Teryx side-by-side and extends it so that four can sit comfortably. The vehicle is mainly aimed at families and groups of friends who want to explore together in the same vehicle.

According to the news source, the vehicle does this job admirably. One of the most important aspects of family vehicles like this, for example, is safety. The test drive showed that there was very little that would cause the Teryx4 to tip or put the occupants in a dangerous situation. It might not be the smoothest ride on the market, but it is a stable one, mostly thanks to Electric Power Steering (EPS). The EPS system is available on all versions of the Teryx4 except the base model, and the news source says it's worth the price to upgrade.

The vehicle is also powered by a 749cc V-Twin engine and features a redesigned frame to evenly distribute the weight between the four seats.