Evolve Motorcycles' "Tron" Bikes Electrify Sales
Chaparral Motorsports
|
December 13, 2011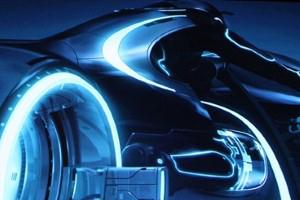 The world of motorcycle design is expansive enough that just about anything can be realized with a little know-how - and tons of cash. The "Tron" lightcycle, designed by Parker Brothers Choppers and sold by Evolve, is one such example.

This bike essentially takes the lightcycle from the Tron movies and translates it into a working electric motorcycle. It started as a pet project of Parker Brothers, but quickly grew into something more.

Turns out, there's a large audience of people willing to pay $50,000 for a real life movie prop. Of course, it doesn't hurt that that Tron motorcycle, officially known as the Evolve Xenon, has some legitimate electric motorcycle technology behind it. The motorcycle is capable of hitting 100 miles per hour and can also travel 100 miles before it needs a charge, which is somewhat rare in the world of electric bikes. All of that has translated to sales that have far outstripped the expectations of Evolve.

"There is massive demand for them," spokesman Erin Cullison told USA Today.

Evolve also plans on building a cheaper bike, the Lithium, which would have the same specs as the Xenon but without the Tron styling. For now, however, they're content with the brisk sales of the Tron bike.