Valentino Rossi To Answer Fan Questions Online
Chaparral Motorsports
|
December 12, 2011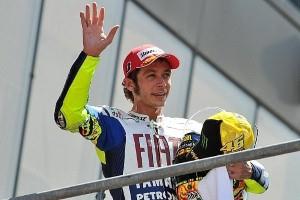 Valentino Rossi is one of the more popular riders in the world, which means that there's considerable interest in just about everything he does. On December 21st, fans will get a rare chance to interview Rossi as he answers questions on the Dainese website.

Dainese, which makes motorcycle apparel, is one of Rossi's chief sponsors, along with AGV. These two companies have banded together to sponsor the event, which will see Rossi hitting the computer at 10:00 a.m. eastern time to field questions from fans all around the world.

"Dainese and AGV want to celebrate Christmas by holding a unique event for all of its fans: see the MotoGP champion Valentino Rossi in a worldwide livestream!" the companies said in a statement. "Valentino Rossi will be online live to answer questions made by fans from all over the world."

Fans can either submit their questions for the popular rider via Facebook or on the Dainese.com website. All eyes are on Rossi this year as he continues with the Ducati team and hopes to bounce back from his lackluster performance last year, where the former champion did not manage to win a race.