Roger Lee Hayden Films PSA For Motorcycle Safety
Chaparral Motorsports
|
December 9, 2011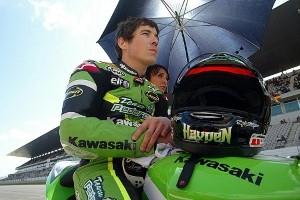 Motorcycle safety is one of the foremost issues in the riding world, with battles going on in just about every state over motorcycle helmet laws. While many motorcyclists feel that they should have the option of wearing what they want out on the road, that doesn't stop the issue of safety education from being important.

Michael Jordan Motorsports and the National Guard recently teamed up for a new public service announcement (PSA) featuring AMA Superbike rider Roger Lee Hayden. In the ad, Hayden talks about his own journey to the top of motorsports, and how he personally has learned that safe motorcycle gear can be a lifesaver.

"Whether you're a beginner or riding for some time, the pavement is just as hard," Hayden says in the ad. "I've been riding for over 20 years and I never ride without my helmet, my gloves, my boots or my leathers. Make sure you always wear your safety gear. It might just save your life."

Hayden also points out that many see what he does on the track as dangerous - but in reality, there are few distractions or obstacles he has to deal with. If anything, people should be wearing motorcycle helmets and other proper protection gear out on the road where there are other cars, curbs, potholes, traffic lights and other potential dangers, the ad states.