New Hellcat Motorcycle Draws On Aircraft Design
Chaparral Motorsports
|
December 2, 2011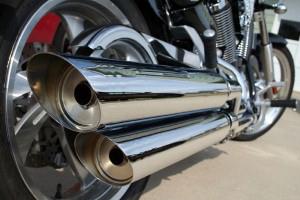 Many motorcyclists stick to the major manufacturers when it comes to their ride, but smaller companies can offer a more unique experience. That's the case when it comes to heirloom motorcycle manufacturer Confederate Motors, which recently unveiled their brand new custom X132 Hellcat.
The concept behind the high-end bike is the technology of a bike fused with that of an airplane. The model takes its name from the legendary F6F Hellcat fighter plane used in World War II. What's unique about the bike is its casing - rather than the usual materials, the company used billet 6061 aircraft-grade aluminum to craft the design.
"This new case unites America's best V-Twin technology and America's superior powertrain technology into a singularity. Although this is the most expensive material selection and craft methodology, it is simply the best approach for maximizing strength and guaranteeing permanence." said Confederate's lead designer, Edward Jacobs., "We've always dreamed of designing the core of the machine. For the first time in our 21-year history, we've been able to do that with the unitized case of this new Hellcat."
The Hellcat begins production in January, but buyers can pre-order now for the price of $45,000. The price will rise to $49,500 beginning in March.