John Hopkins To World Superbike
Chaparral Motorsports
|
November 18, 2011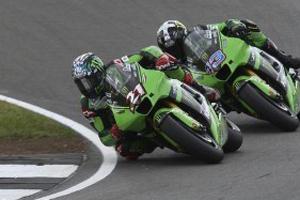 In the wake of Suzuki's decision to leave MotoGP, superbike rider John Hopkins is assumed to be moving to the Crescent Suzuki team in World Superbike, although it's not yet been officially confirmed.

Contacted at his home by Cycle News, Hopkins commented on the reports without saying that the move was official.

"Obviously, nothing's official, but I mean it seems pretty clear on what's going on," he told the news source. "Although, I can't confirm anything, it's pretty clear right now what's happening."

It's been a bit of a bumpy road for Hopkins, who was hoping to get back into MotoGP permanently after a three-year absence. Hopkins' career has been derailed by injuries, but he raced well in British Superbike for the past year, losing out on the championship by fractions of a second.

Suzuki used Hopkins to fill in for Alvaro Bautista when needed, but with the manufacturer pulling out of the competition, Hopkins has no team to join even if he wanted to go to MotoGP. Thus, it seems as if he will be stepping up to World Superbike instead and riding with Crescent Suzuki, reports the news source.