Pirelli Introduces Diablo Supercorsa
Chaparral Motorsports
|
November 15, 2011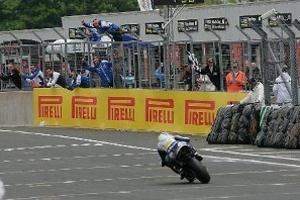 Pirelli has announced the introduction of the new [mageProductLink sku="329-03040095" title=""]Diablo Supercorsa motorcycle tire[/mageProductLink], showing off the new design at the EICMA motorcycle show in Milan, Italy.
The new Supercorsa is aimed at bridging the gap between track and street bike tires. Many riders use sport bikes that are just as at home on a race course as they are in the city. Pirelli's aim is to provide a tire that offers race-quality performance, but is also suitable for everyday use.
Pirelli is claiming improved performance compared to previous attempts in this area. For starters, the new Supercorsa is thicker than their previous offerings, which it says gives the bike more support under braking. The tread pattern has also been redone to provide better handling and agility. The shoulder of the tire remains "naked" to allow for better usage on surfaces that require extra grip.
Other improvements include a high-modulus carcass and a dual-compound tread that features new polymers, allowing for quick warm-up and better performance under a variety of conditions.
The Supercorsa will be available in SC (Special Compound) and [mageProductLink sku="329-03030088" title=""]SP (Sport Production)[/mageProductLink] versions. The SC model is aimed more at track riders, while the SP version is for both track and street.