Naples, Florida Hosts Bikers For Babies Charity Ride
Chaparral Motorsports
|
November 9, 2011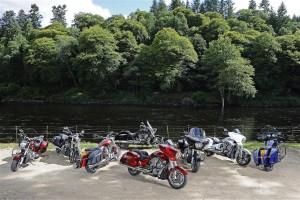 The 11th annual March of Dimes Bikers for Babies charity ride recently took place at the North Collier Regional Park in Naples, Florida. More than 1,500 riders showed up on cruisers, street bikes, choppers and crotch rockets to benefit babies who are born prematurely or suffering from birth defects, according to Naples News.

"This is my fourth year doing this," Bill Salley, a local resident and business owner, explained to the news source. "Every family is affected by this. I support the event and I just like doing it."

The 35-mile, police-escorted ride took an hour and 45 minutes to complete and ended at the Fort Myers Harley-Davidson dealership, which is owned by the revenue chair of the event, Scott Fischer. There was live music provided by a local cover band, tattoo artists, food and drinks and vendors selling an array of motorcycle gear, and all of the proceeds were donated to the March of Dimes foundation, the news source reports.

Naples is not the only city to host charity rides for this cause. Bikers for Babies holds events throughout the year all across the nation to help infants born early or sick.