ITP Mud Lite ATV Tire Review
Chaparral Motorsports
|
November 8, 2011
|
Last Updated: September 17, 2020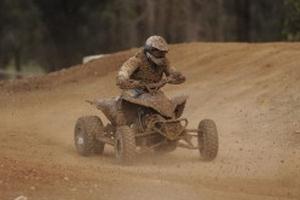 When it comes to ATVs, one of the most important aspects of the vehicle is the tires. ATV riders are typically driving on a varied set of terrain, meaning that they need to pay much closer attention to the tires they're using than someone who is mainly sticking to pavement. The ITP Mud Lite ATV and XL tires are specifically built with this in mind and designed to offer riders the best traction possible in a variety of conditions.
ITP Mud Lite ATV Tire Tread
With the word "mud" right in the name, riders should be able to tell right off the bat that these tires are made to handle sludge and dirt with minimal problems. The first thing that drivers will likely notice about these tires is their unique tread, which uses deep curves that wrap around the surface of the tire. When used in mud, these hard treads essentially work like small paddles, pushing the mud away from the tires and giving the drivers more power.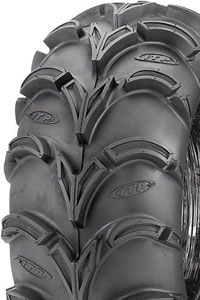 The curved part of the tread allows the tire to gain traction as it digs into the dirt. What many drivers may not realize is that these tires also work well in snow, specifically the harder types of snow. You won't be zipping along as fast as a snowmobile, but they'll get the job done if you really need them too. Of course, the tires can also function on normal trails as well. However, drivers need to keep in mind that the aggressive tread design means that the tire will wear more quickly on regular trails. The ITP Mud Lite ATV Tire is primarily designed for mud and snow, so if you plan on sticking to the trails, then you should look for a trail-specific tire.
The other half of the name is "lite," and that's where the tire's lightweight design comes in. ITP focused on reducing the weight of the tire at all costs, and that provides some nice performance advantages for the Mud Lite. Lightweight designs have a number of different benefits, but the most noticeable is power. Simply put, light tires are easier to turn than their heavier counterparts, which means you'll go slightly faster. A lightweight tire also offers an advantage when it comes to handling - they're simply more agile than heavy-duty tires.
ITP Mud Lite ATV Tire Final Thoughts
The ITP Mud Lite is a strong option for any rider who plans on handling mud and snow, without precluding them from riding well on trails. The tire's lightweight design will provide a noticeable improvement in performance, while still offering enough tread to get through the trickier terrain.