Hayes Impresses In MotoGP Debut
Chaparral Motorsports
|
November 8, 2011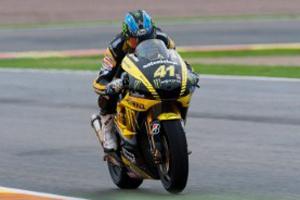 He had never ridden a MotoGP bike before, never been to Valencia, and to top it all off, it was raining. In spite of this, AMA Superbike champion Josh Hayes looked like an old pro out there filling in for Colin Edwards, battling his way to a very impressive seventh-place finish in his MotoGP debut.

Hayes was tapped to replace Edwards at the last minute after the rider was injured in the crash that killed Marco Simoncelli. Given the track record of last-minute replacements adapting to the speed and complexity of MotoGP, most analysts said it would be an accomplishment if Hayes just finished the race.

Yet the American did more than that on Sunday, impressing just about everyone as he rode to a seventh place finish in wet conditions. Hayes called the power of MotoGP bikes an "eye-opener" after the race.

So could Hayes be back on a MotoGP bike sometime in the future? Never say never.

"Hopefully if the team are in this position again, I'll be the first guy they call to give it another shot," Hayes told SpeedTV.

Yamaha team owner Herve Poncheral agreed with that, calling Hayes a "great professional" and saying "we couldn't have had a better replacement for Colin Edwards."