Get A Hold Of Yourself - Buyer's Guide UTV Seats And Harnesses
Chaparral Motorsports
|
November 4, 2011
Oh those UTV seats. Everything on earth has at least one weakness. Superman has Kryptonite. UTVs have stock seats. Luckily, there are bolt-on solutions for the great majority of those weaknesses. Superman? Sorry, you're on your own.

Why You Need New Seats and Harnesses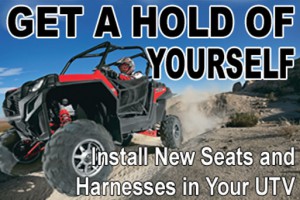 We know why UTV manufacturers equip these awesome vehicles with such seating. The thinly padded, vinyl-covered, low-back chairs on most UTVs help manufacturers keep costs low. Nothing wrong with that. But when they also design these machines to perform like they do - with amusement-park caliber sport-riding capabilities - and still install seats from an old Buick, then there is a problem.

We didn't even mention the stock seat belts. Well, we did now. If you're wondering why you simply don't feel comfortable cornering your UTV, or descending off-camber grades, it's not you nor the UTV's suspension. It's the stock seats and harnesses. Most UTV seats are often slippery and un-supportive - a bad combination in a performance-oriented off-road vehicle. And while the traditional sling seat belt will do its job in an emergency, it won't offer the support you need when riding aggressively.

We'll admit the seating on some 2012 UTVs - such as the Can-Am Commanders and the new Polaris Ranger RZR 4 - is much better. Still, even these new machines leave their drivers lacking the comfort and control needed to take full advantage of available performance.

Seriously, we're not about complaining. We like to provide solutions. New seats and four-point harnesses are the solution to the weakness in your UTV.

Seats & Harnesses: Contain Driver, Enhance Performance
"We like to provide solutions. New seats and four-point harnesses are the solution to the weakness in your UTV."
Would you pay $1,000 to get improved performance from your UTV? You know, better cornering and improved control over rough terrain, especially on tricky descents? You can get that from new seats and harnesses.

You'll spend $750 or more for a pair of new bucket seats for your UTV, plus another $200 or so for harnesses for you and your passenger. It won't actually boost your vehicle's horsepower or improve the suspension, but this project will let you comfortably make the most of your machine's current power and chassis, and that's a great investment.

It's a matter of "containment." The seat must hold the driver (and passenger) in place during aggressive cornering, and when navigating other difficult terrain. To do that, a seat needs to be designed to contain the driver. Reinforced sides hug the driver's body to prevent sliding around and out of place. If you're not contained in your seat, you can't possibly control steering, accelerating or braking.

A good seat must also keep you seated. Many aftermarket seats use internal "suspension" systems to help do that. Good foam padding is also there to manage the comfort factor, but you often need a little extra suspension when hammering rough and rutted trails, rocky hills, or plowed fields. If you're bouncing out of the seat, how can you manage throttle control?

Harness systems enhance the ability of good seats to contain a driver and passenger. Sure, you can't beat the convenience of a stock, retractable seat belt. But do you really want the same restraint system that's in your Ford? You need containment to derive the highest performance from your side-by-side vehicle.

"...the payoff for the extra bit of work is a fully contained and secure seating position"
If you're really serious and considering racing, go with a [mageProductLink sku="100-saf550170-04" title=""]full five-point harness[/mageProductLink] that will help prevent "submarining" (when the driver or passenger slides down in the seat and underneath the harness). Most UTV users simply need a 4-point harness, bracing both shoulders and the hips on the right and left. These systems do require an extra few seconds of buckling and adjusting for each ride. But the payoff for that extra bit of work is a fully contained and secure seating position that helps the drive maintain control of the vehicle. Imagine if you could focus on simply steering and throttle control, and not worry about hanging on for the ride.

Purchase And Installation Tips
Simpson 2x2 Type Harness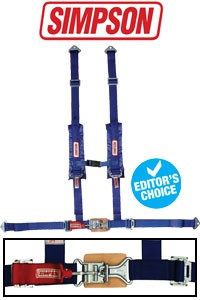 Simpson provides high-performance restraint systems, helmets, racing suits and more. The company's [mageProductLink sku="100-saf550265-02" title=""]2x2 Type Harness[/mageProductLink] ($100) has padding sewn in the straps for comfort around shoulders and upper chest. This harness is easy to bolt onto your UTV, replacing the stock seat belt and delivering the containment you need.

Cerullo High Back RX Sport Seat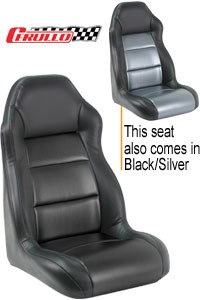 The [mageProductLink sku="100-070-7104" title=""]Cerullo High Back RX Sport Seat[/mageProductLink] (from $370) is a top-notch performance seat at an inviting price. This seat features reinforced sides that provide a nice blend of support for drivers and passengers of different sizes. The vinyl cover mimics a carbon-fiber design, and it's resistant to the elements - perfect if you leave your UTV outside or ride in all weather conditions.

Beard Fuel Sport SxS Seat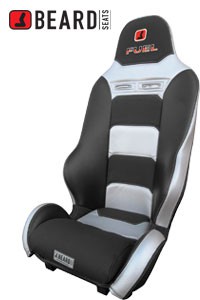 The [mageProductLink sku="313-4896" title=""]Beard Fuel Sport SxS Seat[/mageProductLink] ($430) is made to fit Rhino, RZR and Teryx UTVs, and it uses an extra tall design that conceals the vehicle's stock headrest. This seat delivers a high level of support from larger bolstering for your upper body and hips. The Fuel seat also features two cutouts through which you route the upper shoulder harness straps - solving the potential issue of harness straps moving out of place. This seat has a removable cover that can be washed easily, and it also can move forward two inches in its mount for shorter drivers.

Harness Installation Is as Easy at 1, 2, 3!
Installing new seats in your UTV is one of the easiest jobs you'll ever tackle. Of course, every machine is different, but on popular models like the Yamaha Rhino and Polaris RZR side-by-side vehicles most new seats bolt directly to the stock seat base.

Unlatch the seat from your Rhino, and separate the stock seat from the stock seat base; they're united with just a few bolts. The new seat bolts directly to this stock base, and then the combo latches back on to the machine.

Did You Know?
You can see tutorial videos for easy Simpson Harness Installation and many other helpful videos on our YouTube Channel.
Installing four-point harnesses is also a do-it-yourself job using basic hand tools. Each UTV manufacturer covers the mounting locations with a variety of plastic panels. Take care when removing those pieces; many of them use plastic clips that are easy to break or lose.

If you're installing a harness restraint on a UTV like the new Can-Am Commander, you will need to install a crossbar behind the seats to hold the upper restraint straps. The Turnkey Can-Am Commander Harness Bar ($180) does just that. This hardware is designed specifically to secure four-point harness straps to manufacturer recommendations, and it won't interfere with seating or with the UTV's storage bed.

Due to unique stock seating and chassis designs, we can't provide detailed installation instructions for any of these products. But they can all be done with basic hand tools, and most products come with instructions specific to your vehicle.

Installation is easy, and the rewards are huge.

Let the experts at Chaparral Motorsports show you how to make installing your harness a breeze!