ATV Thefts On The Rise
Chaparral Motorsports
|
November 2, 2011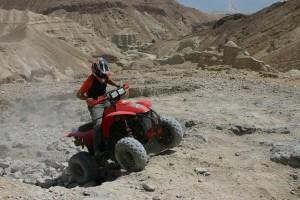 Owning an ATV can be a lot of fun, and these vehicles have also proven that they can be extremely useful for transport and towing as well. Unfortunately, this also makes them a prime target for thieves.
In Blanchard, Louisiana, one owner found that out the hard way when two of his ATVs were stolen off his property. One of the ATVs was his, while the other belonged to his father. The duo had just taken them out of storage in preparation for hunting season.
This type of theft has become quite common, reports the Insurance Journal - but many owners don't think that their ATVs are in jeopardy if they are on their own property.
Caddo County in Louisiana has seen a number of these cases, and issued a news release to warn all owners about the potential for theft.
"This is the time where people get them out and use them to prepare their hunting leases, and by doing so they end up displaying them for criminals to see," said Lt. Bill Rehak of the Sheriff's Detective Division. "Plain and simple, it's that time of year, and anyone with an ATV should be aware of the potential for theft."